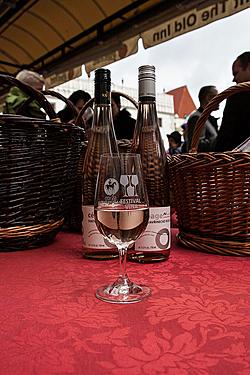 Český Krumlov will dedicate as usual most of the month of November (7 - 21 Novembee 2014) to wine. And not just any wine. The Festival attendees include the Bronze and Gold Winemaker of the Year 2013 Award recipients. You can also witness the art of sabrage. Famous Czech sommeliers and gastronomes will be present at the Festival such as Ivo Dvořák, Klára Kollárová, Michal Šetka and others.
Český Krumlov may not be located within a wine making region however grapevine still grows on some places here. The Rosenbergs tried to grow it on the Southern Castle terraces. This year grapevine will also return to the presently restored monasteries with over 50 grapevine plants planted there.
This symbolic act will open the new Český Krumlov Wine Festival on Friday 7 November. In the evening the Festival will move from the municipal vineyards to the Castle Riding Hall where the Castle Gala Evening takes place. You can expect a festive evening with top wines from Moravia and France paired with modern gastronomy by the famous chef Radek Šubrt. An incredible sabrage performance will open the evening. The acts will include chopping the sparkling wine bottles with a sabre, a shoe, a glass and with other means. The sparkling wines chopped open during the show will be from the Proqin winery - holder of the Bronze Winemaker of the Year 2013 Award. White wines from Sonberk winery - holder of the Gold Winemaker of the Year 2013 Award and refined French red wines will be served during the evening.
This year St. Martin will again return to Svornosti Square on Tuesday 11 November bringing along the first wine of the year which we will open and taste together at 11 hours and 11 minutes. St. Martin's wine will then travel to select local restaurants where it can accompany the traditional St. Martin's roast goose, sometimes in unusual recipe variations.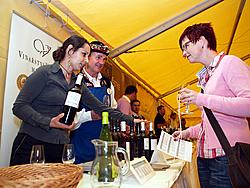 This Festival is also about meeting wine lovers and experts. The renowned sommelier Ms. Klára Kolárová has prepared an entertaining, educational, historical, cultural wine tasting especially for this Festival called UNESCO & WINE. Two top Czech sommeliers - Ivo Dvořák and Michal Šetka will give a tour through the former Austrian Hungarian Empire and its wines; they will also present the royal grape of Rheinriesling. The Wine & Gastronomy & Culture Programme includes different events and restaurant offers throughout the entire Festival.
The Festival culminates with the Castle Wine Celebrations on Saturday 29 November. This popular wine tasting and buying event has been moved from the Brewery gardens where it took place in the previous two years into the Castle Riding Hall. What remains unchanged is the friendly and informal spirit of the event. Here the visitors may enjoy greater comfort and sample over 150 different wines from Bohemia, Moravia and abroad. The bands Medicimbal and Chlapi v sobě will perform during this meeting of wine aficionados.