Egon Schiele Garden Studio in Český Krumlov Open to Public
From June till the end of August can you visit the garden house at the terraces in Southern Meander od Vltava, that served in 1911 as a residence and studio of the world famous painter Egon Schiele (1890-1918).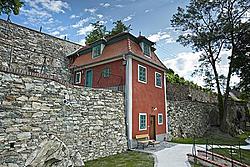 You can see interiors linked to the works of Egon Schiele in the Garden Studio, where he created his most famous paintings such as The Town on the Blue River, Dead Town, Night Krumlov or View Over Krumlov Rooftops. Come sit in the work environment of the artistic flat and view the works of art by contemporary artists from all over the world created in the inspirational studio environment "100 years after Schiele" over the winter months. You can enjoy a cup of coffee on the nearby terrace.
Egon Schiele Garden Studio is part of Walking tour Southern Meander. After your stay at studio you can go on and learn about new notable town attractions (Municipal park, Museum Photo Studio Seidel, Synagogue, Rose Garden).
Entry into the studio is from the Vltava River bank (P3 Parking, Linecká Street 343).
Open daily out of Monday 11:00 - 17:00, entry 30 CZK.
Access to Český Krumlov Card holders is free of charge 2016.