45th Rallye Český Krumlov
South Bohemia competition Rallye Český Krumlov that has a rich and successful history since 1971, will culminate on May 19 and 20 with its 45th sequel to be run in this season.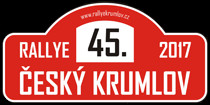 The organizers from Český Krumlov decided on a classical format of their rally which means a Friday start at České Budějovice Exhibition Ground (Výstaviště) and the subsequent night leg. "We are negotiating with towns and villages for the rally to be included in their generally binding decree on night peace so that neither crew nor spectators will miss one of the most attractive sections of our competition," said Luboš Šalát, Clerk of the Course and Chairman of the organizing ÚAMK Automotoklub Rallye Český Krumlov.
Detailed information on the track and accompanying programme will be published in the next weeks. However it is sure that the 45th Rallye Český Krumlov will be included again, beside the domestic championships for contemporary and historic cars and Rally Legend, also into FIA European Rally Trophy Championship.
On the third weekend of May South Bohemia will also see the 6th New Energies Rallye Český Krumlov that has been registered again by organizers to the World Cup for alternative energy vehicles after this year's visit of FIA president Jean Todt.
"From 2017 on, this Cup, sanctioned by FIA and held under the rules for regularity rallies, will be newly open to electric cars only. However, we will also allow owners of other ecological cars, no matter if they are hybrid ones or running on CNG, to take part in the competition," explained Pavel Kacerovský, representative of ČK motorsport who is the promoter of all events organized in Český Krumlov, and Clerk of the Course for New Energies Rallye.
For more detailed information regarding the 45th Rallye Český Krumlov 2017, see official website www.rallyekrumlov.cz