Celebrations of liberation
71st Anniversary of 2nd World War II End in Český Krumlov
6 - 8 May 2016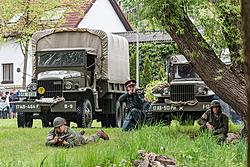 During these days in May we will celebrate the end of 2nd World War in our town. The celebrations will commence on Friday 6 May at 10 am in the area behind the swimming pool by the Chvalšinská road. A narrated performance about the events of 1945 in Czechoslovakia aimed at pupils and local schools' students will take place here.
A remembrance ceremony will take place on 7 May at 11 am on Svornosti Square to commemorate the victims, the participants and heroes of 2nd World War. Flowers will be laid by the commemorative plaques dedicated to the soldiers of 26th U.S. Army Infantry Division and Czechoslovak war pilots from the Český Krumlov region. Town representatives, distinguished guests and members of military history clubs will attend. A military history club guard of honor as well as period military equipment will be present during the remembrance ceremony. The singing choir Musica Divina will perform state anthems of the Czech Republic and the USA.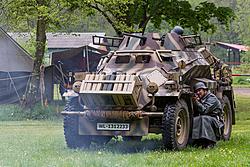 The "Battle of Český Krumlov" is set to be the biggest attraction of the celebrations. It will take place on Saturday 7 May at 2 pm - once again in the area behind the swimming pool at the Chvalšinská road. The battle will be enacted by the members of 4th Armored Division U.S. Army from Pelhřimov and cooperating military history clubs.
As early as Friday 6 May as well as immediately after the battle the general public may come to view the period military encampment, military equipment and weaponry of both parties engaged in the conflict.
This event will be organized by the Český Krumlov Tourism Association for the 4th time in a row and supported by the town of Český Krumlov.