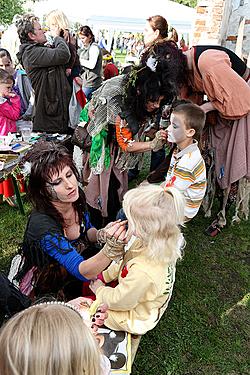 The town's little lanes are being warmed by the spring sun, Krumlov bears are roused from their winter sleep and nature all around is beginning to grow. This can only mean one thing - the celebration of spring called Magical Krumlov is upon us.
Unlike last years, this year's event will commence with a programme named "Echoes from TyjátrFest", based on a festival from Kutná Hora. Musicians, actors and artists as well as plenty of quality entertainment can be seen on Friday 29 April 2011 in the Brewery Gardens.
There will be another busy day in the Brewery Gardens on Saturday 30 April 2011. Kids will have plenty of fun while playing games, producing witch costumes, putting on witch make up and roasting sausages. They can also enjoy a performance by Kamarádi, a theatre ensemble from Brno. Parents and children can together visit stands of various local non-profit organizations, institutions and groups as part of the Krumlov Fair. A popular ladies band Lakomá Barka will also perform. The entire afternoon programme will be enhanced by the Český Krumlov Elementary School of Arts Festival.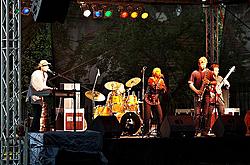 In the evening there will be the traditional erection of the Maypole ceremony accompanied by songs and dances by the Růže Český Krumlov folk ensemble and lighting the fire. A christening ceremony of a new product for tourists called "Český Krumlov Card" will also take place during the evening. The Card will offer discounted entry to four major local institutions (Český Krumlov Castle, Regional Museum, Museum Photo Studio Seidel and Egon Schiele Art Center). Saturday evening will be concluded by a concert by several local favourite bands (Lakomá Barka, El Tenéré and Kyanid) and a lantern procession.
Many museums and galleries will open their doors on Sunday 1 May 2011 allowing you to visit many interesting exhibitions. A swing band Black Bottom will play along during the May afternoon on Svornosti square.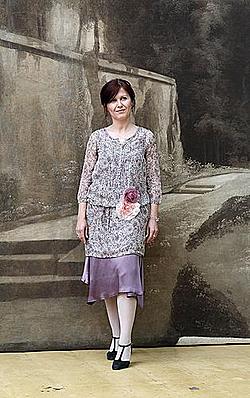 During the entire weekend (30 April - 1 May 2011) you can enjoy a special treat: a photo session in the Museum Photo Studio Seidel. The spring session is themed "First Lady = Mum" and it invites all Mums, their children and Dads in front of the camera. A family photo in a historical setting, at best in period costumes, will become a jewel of any family album, just like in the last century. You can also take part in a competition for the most stylish period costume photograph "First Lady = Mum" of Photo Studio Seidel and win valuable prizes. You can help choose the winner by voting on www.seidel.cz. Reservation of photo session required! For more: www.seidel.cz
Please accept our invitation and come to Český Magical Krumlov. Entry is also magical as it is free (unless noted in the programme).
For full programme please view www.ckrumlov.cz/kokr2011