Exhibition entitled "Czech Crown Jewels within Reach" will be making its stop in Český Krumlov
Historical halls of the former Prelate, neighbouring with the St. Vitus church in Český Krumlov, will be hosting an exhibition entitled "Czech Crown Jewels within Reach" to commemorate 700th anniversary of the birth of Charles IV. Citizens and visitors of the town will have a unique opportunity to see masterpieces of replicas of the most valuable Czech treasure from July 5th to September 9th 2016.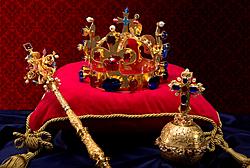 Český Krumlov will be the first stop of the travelling exhibition in South Bohemia. Visitors of this exhibiton will have the chance to see not only master replica jewels, but also many other thematic exhibits from the reign of Charles IV. - replicas of mediaeval weaponry, replicas of clothing and footwear or popular large-scale 3D models. Exposition will be accompanied by attractions and gems from hundreds of years of history of the Czech coronation jewels shrouded in various legends. The period of the origin of these jewels will be brought closer by the whole concept of this exhibit concentrating on one of the most important figures of Czech and European history - Charles IV. Interactive features will surely be appreciated by the youngest of visitors.
The author of exquisite replicas of the crown jewels is one of the best Czech and European goldsmiths, a legend among jewelers - Jiří Urban, who created jewellery for Queen Elizabeth II., Pope John Paul II . or a replica of the imperial crown of the Holy Roman Empire. Top Slovakian couple, goldsmiths Mr. And Mrs. Cepka have also participated in the hunders of hours of creating this jeweled masterpiece. Accompanying video projection will show details of production processes.
"The Czech Crown Jewels within Reach" exhibiton is held in conjunction with the town of Český Krumlov. The town has decided to use this opportunity to showcase exceptional premises of the former Jesuit Prelate. Crown jewels replicas will be placed in the unique gothic hall with exceptional fresco decorations, dating back to the 14th century. So called Prokyš Hall with Rococo illusionary wall depictions (second major piece by the author of the of the castle's Masquerade Hall) will remind the visitors of the reign of Charles IV. and what life was like in the Middle Ages.
The exhibit will be open daily apart from Mondays and can be entered directly from the gate of St. Vitus church, or from 155 Horní St. (seat of the Town Library).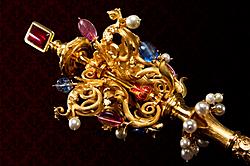 More information on the "Czech Crown Jewels within Reach" project can be found on www.ceskekorunovacniklenoty.cz.
This travelling exhibit will make its future stops in Karlovy Vary (15. 9. - 30. 10. 2016), Pardubice (5. 11. 2016 - 4. 2. 2017) and Zlín (9. 2. - 27. 4. 2017).
Fotogallery