Wine Festival Český Krumlov ®
21 October - 26 November 2016
The 5th annual Wine Festival Český Krumlov ® will again present an enticing array of mainly wine-related experiences from 21 October to 26 November.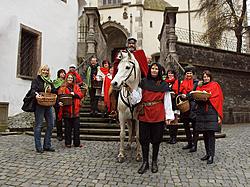 Both the town visitors and residents can look forward to a presentation of domestic and international wines, the autumnal St. Martin´s wine celebrations, gastronomy specials as well as friendly encounters with wine lovers as part of the 5th Wine Festival Český Krumlov ®.
The opening of Wine Festival Český Krumlov 2016 will take place on Friday 21 October at the terraces of the Egon Schiele garden atelier with grapevine planting as part of the Krumlov vineyards extension.
This year again there will be the traditional St. Martin´s Arrival on 11 November at 11.11 am and St. Martin´s wine opening on Svornosti Square as well as St. Martin´s feast with live cymbals band. St. Martin´s wine and menu will be served in many local restaurants from Friday 11 November until Sunday 20 November.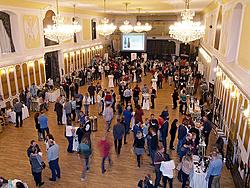 The popular Castle Wine Celebration will take place on Saturday 19 November, presenting over 25 wineries from home and abroad. This tasting and sales event will offer more than 250 different excellent wine samples and an opportunity to buy at special Festival price.