Chamber Music Festival 2010
The following events await you during the Chamber Music Festival in Český Krumlov: music in chateau chambers or in the Monastery church, dance performances, modern age world premiere of a Baroque opera, Baroque fireworks and many others.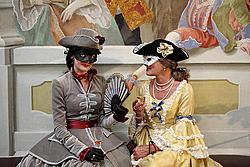 The Chamber Music Festival will be festively opened with a Baroque Night on the Český Krumlov Castle. As soon as you enter the 4th castle courtyard, you will be transported back in time by 300 years. You will be kindly welcomed by the harlequins, merry dancers and musicians. The high nobility will receive you in the Castle chambers and lead you to the Baroque ball which will be completed by dancing, ballet and theatrical performances. Also present will be tables decked with delicacies. After the ball you can view a Baroque opera in the striking environment of the Castle theatre. This year you can expect a modern age world premiere of an opera Il Parnaso confuse by Josef Mysliveček performed by the Capella Regia ensemble. The Baroque night continues in the splendidly illuminated Castle gardens with a period feast. The night full of experiences will be concluded by Baroque fireworks.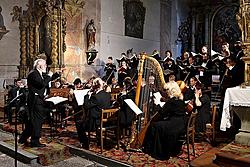 The festival programme continues on 27 June in the Monastery church. The walls of the Monastery will reflect the tones of an organ and a trumpet, but also of a guitar and a flute during the Gran Duetto Concertante concert. Fans of other musical genres will also be satisfied with the offering of Chamber Music Festival. This year the programme includes a rock concert by Radim Hladík and Blue Effect. Local musicians will also enrich the Festival: the Krumlov Chamber Orchestra will accompany the flute player Jiří Hlaváč. One of the main stars of this year's Festival, Gabriela Demeterová, will play the violin. You can also look forward to a piano recital by Chinese-American Hui-Ting Yang or to the concert of South Bohemian Philharmonic Orchestra. Nocturno perfomed by the String Orchestra Český Krumlov on 4 July will conclude the 24th year of the Festival.