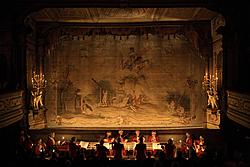 Baroque Arts Festival Český Krumlov has been enjoying an increased popularity among European fans of historic music. The sold-out performances and positive reviews attest to the Festival qualities. The 8th Festival will take place from 18 to 20 September 2015 and its highlight will be the modern age premiere of a humorous baroque opera L´Amore in Musica by Antonio Boroni taking place in the unique Castle Baroque Theatre in Český Krumlov. The opera will be performed by experienced soloist and first class baroque orchestra Hof-Musici. This will be the first time ever that a piece by this very successful and now unjustly forgotten central European baroque composer will be performed during the Festival!
There will be other memorable concerts taking place during the 8th Festival such as Prayers and Lamenations - spiritual music of the 17th century performed by Duo Aurette, music of the Schwarzenberg archive performed by the German pianist Christoph Hammer or organ music of Habsburg monarchy. Visitors can also attend the popular baroque fireworks and baroque illumination in the Castle gardens.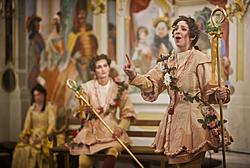 Advance tickets sales for the Baroque Arts Festival 2015 will open on the website www.ckrumlov.cz/opera during the month of December and we expect a lot of traffic. "We have been noticing an increasing amount of visitors from year to year and nearly all performances in 2014 had been sold out. The modern age premiere of the opera L´Ipermestra had been sold out long in advance. Festival director Mr. Jiří Kiprý has stated: "We are pleased to see the increasing renown of the Festival. The modern age premieres of baroque operas presented in such a high standard have become an event that music aficionados look forward to all year long." He has also explained that the income from ticket sales cover about one half of the Festival budget of CZK 3 million. The rest is covered by public grants and sponsor donations.
There are high expectations of the modern age premiere of the humorous opera L´Amore in Musica depicting the Italian baroque opera community. This piece is outstanding not only because of its musical qualities but also because of its subject. In that time most operas presented heroic stories from ancient history or mythology while Boroni's L´Amore in Musica takes place in the contemporary Venetian community and portrays its specific problems and weak spots in the style of Carlo Goldoni's comedies. Ondřej Macek, the artistic director of the Hof-Musici orchestra explains that some characters are so timeless that they will also appeal to modern audience.