36th Annual EKOFILM
The 36th annual International Film Festival on Environment, Natural and Cultural Heritage EKOFILM 2010 will take place during 4 to 10 October 2010 in České Budějovice, Český Krumlov and in Třeboň. The main topic of this year is the International Biodiversity Year. Jaroslav Dušek will guide you through the festival as has become a tradition in the past two years.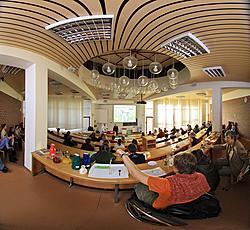 This year there are 226 films from 40 countries participating in the Film Festival EKOFILM competition, beating the record high participation number from last year by one film. The following countries have, among others, sent their film creations to compete: Armenia, Bulgaria, France, Ireland, Hungary, Germany, the Netherlands, Poland, Austria, Russia, Slovakia, Spain, USA. There are 61 titles selected to compete for the main Festival award, to be judged by a 5-member international jury. All participating films will be available for individual viewing in the "screening on demand" section in the Kotva cinema, and newly also in the Academic Library of the South Bohemian University and in the Municipal Theatre in Český Krumlov.
The Festival will arrive to Český Krumlov on Friday 8 October and will continue until Sunday 10 October in the Municipal Theatre, in the J&K cinema and in the Prelature halls.
There will be several concert performances as part of the Festival. Yo Yo Bandwith Richard Tesařík will set off in the Antré theatre café and Saturday 9 October will be under the direction of the Jazz Section of the Immediate Film Orchestra of Varhan Orchestrovič Bauer who will spice up the festive EKOFILM awards ceremony and afterwards will perform live in the Antré café.
The weekend programme in Český Krumlov will also include panel discussions and seminars, focusing on the various aspects of biodiversity. The programme will be complemented by discussions with the projected films' creators.
All the festival events are open to general public. All EKOFILM events are free of charge with the exception of the theatre performances and organic wine tasting. For more information see www.ckrumlov.cz/ekofilm2010