Handicap Day 2010
Crooked lanes, uneven historical cobblestones, charming houses in a hilly terrain, a Castle upon a rock - all these are sights which attract hundreds of thousands of tourists annually to Český Krumlov. However there are visitors who are blind, wheelchair-bound, with crutches or another handicap and for them visiting Krumlov are not easy at all. But this can be overcome as during the traditional "Handicap Day - Day Without Barriers" all the obstacles are removed.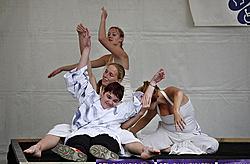 Members of the Kiwanis Club Český Krumlov have organized the "Handicap Day - Day Without Barriers" for the seventh time. This year it fall on Saturday 11 September and included will be all the popular events: a tour of the Český Krumlov Castle, of the unique Baroque Theatre or sailing down the Vltava River in specially adapted flatboats. If you prefer a more adventurous journey, you may raft down the river. Also included in the programme are tours of the historical town center for wheelchair-bound visitors and special touch tours for the blind called "Touch Český Krumov".
The cultural programme on the main square is indeed varied and caters to many different tastes. The following artists will be performing for the guests' entertainment: a singer and musician Raven, instrumentally creative musicians from the bank Madfinger or a swing band from Český Krumlov Black Bottom. As usual there will be performances by people who have overcome their handicap - this year by an artistic band T.I.K. Jilemnice. Theatrical art will also be included. Studio dell´arte will perform a classical tale "The Long, Wide and Eagle-eyed Ones" and viewers can also take part. You can also look forward to a theatrical ensemble from Austria - "Theater Malaria" whose members also face various medical conditions.
Visitors without a handicap can take part in a programme called "Try This For a While". Visitors can try moving in a wheelchair or practical skills used by the blind. There will also be stands presenting products from sheltered workshops and producers of medial aids.
Selected museums and galleries of Český Krumlov have been traditional partners of the "Handicap Day - Day Without Barriers" and these will open their doors to visitors for free. There is also the affiliated musical festival Jazzky Krumlov where the visitors can wind down after an action packed day. The evening concert will see performances by the bands Madfinger or Sanyland.
Members of the Kiwanis Club hope for a pleasant weather and believe that all participants will enjoy a day filled with strong experiences and joyful encounters. We wish that all participants discover their little piece of Krumlov and take it away with them as a memory and an invitation for next year.