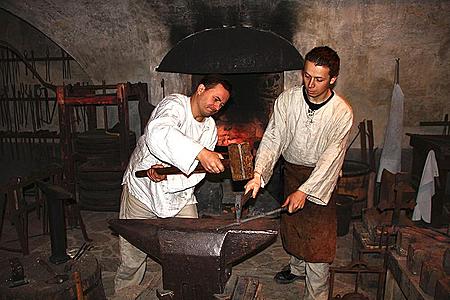 The Forge is located on 1st Castle courtyard which used to be the farming and administrative centre for the Castle. There were horse stables and various domestic animals were running around - hence the historical name for this place "Rejdiště". In the past the craft shops were also located there as well as an ice house, salt house, beer brewery - and a forge. Today the forge is divided into three parts: a working forge, blacksmiths´ living quarters and an outside extension.
Today's visitors can witness and experiment with the secret of steel treatment. You can personally try blacksmith tools, tools for beating copper, hand bellows for air blasting the fire, coal grinder, wrought grills from different historical periods, wrought iron agricultural tools, hand grinder, drillers and hundreds of other blacksmith tools and products.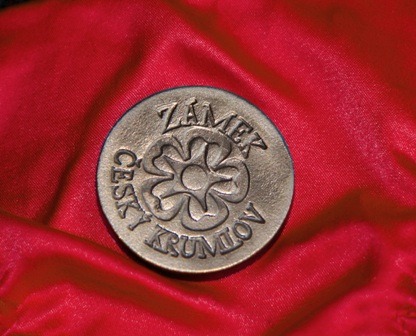 In the blacksmith's room visitors can see how the blacksmith worked on design projects in his spare time or where he rested. The atmosphere transports you to times long past. Under the careful supervision of an experienced master blacksmith you can take the hammer and make your own product to take home.
The Castle forgery present an array of wrought iron products ranging from everyday use producst to masterpieces of blacksmith art which can also be witnessed all over the Castle such as doors and windows ironwork, wrought iron decorative grills, banisters etc.
Here in the blaze of hot flames the visitors from present time can experience a unique atmosphere of an ancient craft practiced by humankind for millennia.
Open Tuesday - Sunday: daily 10 am - 6 pm
Entry fees:
Children up to 3 years of age: free of charge
Full entry fee: 40 CZK
Reduced entry fee (children, students, pensioners, handicapped persons): 20 CZK