Advent and Christmas in Český Krumlov 2017
1. 12. 2017 - 7. 1. 2018
When winter comes, Český Krumlov shows a completely different face. A face filled with peace and poetry. The Advent season is unforgettable time of cheerful gatherings, which can be enjoyed during the whole five weeks. Visitors and residents can visit on Advent weekends not only the traditional programme on Svornosti square and in the monasteries, but also various Christmas concerts, fairy-tales, performances, special town walks, exhibitions and crafts. For the very first time, interested persons will be also able to take part in an angel procession through the town.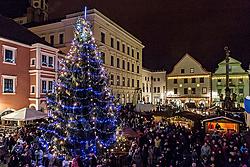 The traditional old-fashioned Czech Advent market will begin on Friday (the 1st December) and will entice you with the scent of Christmas punch, mulled wine and Christmas cookies. You can visit it daily until 7 January 2018: MON - THU till 6 pm; FRI and SAT till 8 pm; SUN till 7 pm. The market will offer rich gastronomy in the form of old Czech delicacies or Christmas punch, products with Christmas theme ot traditional crafts.
The first Sunday of Advent in Český Krumlov (3rd December, 4.30 pm) will bring music and poetry-filled Advent opening and lighting of the Christmas tree at Svornosti square. The Advent will be opened also at 6 pm with a living light - an Advent spiral - in the Seminar garden and on the courtyard of Town Museum in Horní Street.
A novelty in the programme of Advent and Christmas in Český Krumlov will be the Angel Day, prepared for Friday, December 8th. On this day will Český Krumlov turn into a town of angels for a moment. Do not hesitate and take advantage of the unique opportunity to participate with your own angel costume of the Angel Procession accompanied by angels of live Bethlehem! Together you will pass the places where in the city centre the film Anděl páně 2 was shooted. The Angel procession route is as follows: Seminar garden in Horní street (5 pm) - St. Vitus Church - Main square - Široká str. - Dlouhá str. (5:30 pm) - Lazebnický bridge - Latrán str. - Monasteries and to the Luna cinema. In the Monastery courtyard angels together with the director of the film Anděl paně 2, Mr. Jiří Strach, a new nativity scene made by the professors and pupils of the Secondary Arts School of Holy Agnes of Bohemia and maybe some other suprises will be revealed.
The magic of town during Advent will be accompanied by our traditional programme: present give-aways on St. Nicholas Day (December 5), Baby Jesus Post Office (December 10), joint singing under the Christmas tree (December 13 and 17), Dog Christmas (December 15), Christmas mass of Jakub Jan Ryba (December 16, this time in the Monastery church), live Christmas Bethlehem (December 23) or Bear Christmas (December 24). The traditional Baby Jesus Post Office receives this year children's letters to Baby Jesus since Sunday 3rd December. The mailbox for children's letters will be available at the Svornosti square on the small bell tower by the Christmas tree. On Sunday 10 December, at 3 pm, Baby Jesus Post Office will be opened at Golden Angel, and at 4.30 pm the White Lady will be visiting our town and she will then deliver the children's letters to Baby Jesus.
During December in frame of the Advent and Christmas in Český Krumlov a number of Advent and Christmas concerts will take place in the historic area of Český Krumlov. Other cultural activities during Advent and Christmas in Český Krumlov were also organized by the Elementary Art School, the Municipal Theater, the House of Children and Youth and the Municipal Library.
Accept our invitation to Advent and Christmas in Český Krumlov! There will be lots of opportunities to stop and joy during that holiday season.