Advent and Christmas in Český Krumlov
25th November - 6th January 2017
Would you like to enjoy the time before Christmas without stress, hurry and experience pleasant atmosphere of the Advent? Then come to Český Krumlov! We have prepared an interesting programme for all the Advent weekends and Christmas holidays.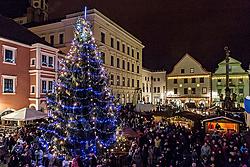 The Advent season is unforgettable time of cheerful gatherings. Visitors and residents can enjoy on Advent weekends not only the traditional programme on Svornosti square, but also various Christmas concerts, fairy-tales, performances, special town walks, exhibitions etc.
The first Sunday of Advent in Český Krumlov (27 November, 4.30 pm) will bring music and poetry-filled Advent opening and lighting of the Christmas tree. The Advent will be opened also at 6 pm with a living light - an Advent spiral - on the Prelature courtyard.
The traditional old-fashioned Czech Advent market will begin on Friday (the 25th November) and will entice you with the scent of Christmas punch, mulled wine and Christmas cookies. You can visit it daily until 6 January 2017: MON - THU till 6 pm; FRI and SAT till 8 pm; SUN till 7 pm. During the Advent market our littlest visitors can admire animals from the Nature Center Pepíno (Friday - Sunday only; this year also on Christmas Eve and Christmas Day).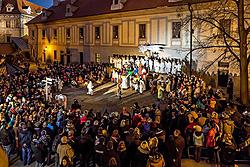 The Český Krumlov monasteries have prepared for their visitors an interesting programme too. Every Saturday of Advent you can expect demonstrations of traditional Czech handicrafts. These will be moments of calm and peace in the wonderful setting of the monasteries of Český Krumlov. The light of Bethlehem will be passed on in co-operation with the Český Krumlov youth scouts on Saturday (December 17) on the Monastery courtyard.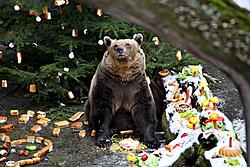 The magic of town during Advent will be accompanied by our traditional programme: present give-aways on St. Nicholas Day (December 4), Baby Jesus Post Office (December 10), joint singing under the Christmas tree (December 11 and 14), Dog Christmas (December 16), Christmas mass of Jakub Jan Ryba (December 17), live Christmas Bethlehem (December 23) or Bear Christmas (December 24).
During December other events take place at a number of beautiful historical locations. Our Advent programme will be further complemented by performances of the local Elementary School of Arts, events in the Children and Youth Centre, exhibitions in the Regional Museum or traditional original picture shooting for families or individuals in Museum Fotoatelier Seidel (December 3 - 4, December 10 - 11).