Baroque Art Festival Český Krumlov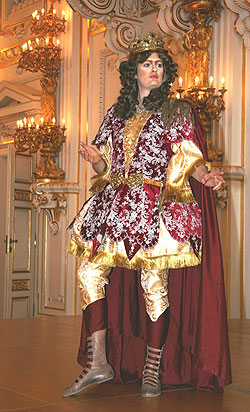 The Baroque Art Festival Český Krumlov makes its debut during the first October weekend (3 – 4 October).
This newly established Festival aims to bring to life the various historical places and spaces in Český Krumlov by introducing different forms of art from the Baroque period. The Festival places special importance of presenting the adequate art form in its authentic surroundings, such as an opera in the Baroque Theatre, church music in the Castle Chapel or in the Monastery Church, Baroque dancing in the Masqued Hall etc.
An annual presentation of a traditional Baroque opera, performed in the Baroque Castle Theatre dating from 1766 is set to become the highlight of the Festival. This year, it will be the newly discovered opera by Antonio Vivaldi, Argippo, performed in the Castle Theatre on 3 October from 7 pm. Another feature of this year's Festival programme will be a concert of church music from the archive of the Český Krumlov Castle. This concert will be held from 5 pm in the Monastery Church of the Divine Body which is normally not open to the public.
In the coming years, the Festival organizers plan to add many more events and various other historical places in the town and Castle of Český Krumlov to the Festival schedule. These places include the Masqued and the Mirror Halls in the Castle, the Bellarie Summer House in the Castle Gardens, the Castle Chapel, the Prokyš Hall in the Prelature etc.
To find out more about the newly discovered Vivaldi opera piece, please view: argippo.hofmusici.cz.