TOWN WALKS 2005
ČESKÝ KRUMLOV TOWN WALKS, a free association of tourist guides specializing in the guiding services designed for individual tourists starts its third year of operation.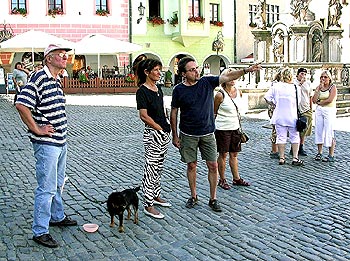 From April to the end of October, Český Krumlov visitors can enjoy daily guided tours to the historical centre and brewery. New to this year season is the guided tour called "Ghost trail" prepared for family holidaymakers and visitors who wish to spent a pleasant time in the town of Český Krumlov and learn about the history of the place through legends and stories present for generations.
Daily, there are three different tours in English and German, which any of the visitors to the town may join. This year, also the Dutch guided tours are prepared for 2005 summer season. Tickets are sold at the two of Český Krumlov tourist information offices. No reservations are needed. Usually most of the visitors buy them just before start of the tours, which begin right at the main tourist information office at the Old Town square. The service is truly individual as the average number of people joining single tours is 3 to 5 people.
The philosophy of the service is to entertain and educate. First, to explain on the value of the place in the context of Czech and European history, then make visitors to understand the Czech character and last but not least to show the spots hidden to crowds, where one can feel breath of ages and absorb the atmosphere of the place in private.
Further informationen: