Let's celebrate the New Yea in Český Krumlov. Whether you are looking for a cozy and quiet spot to celebrate with your loved ones or whether you seek big entertainment, Český Krumlov is the place to be. Local hotels, restaurants and taverns are ready with a wide selection of New Year's Eve menus, romantic getaways and other New Year's events.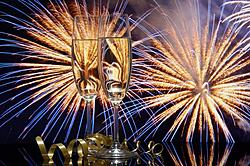 So the Tavern at Šatlavská Street offers a medieval feast. The menu will include pork scraps, cheese platters, chicken wings, roast pig, duck, home-made cakes and many other delicacies. Quench your thirst with Budvar beer, enjoy cheese with house wines and toast the New Year with a glass of Bohemia sparkling wine. The medieval atmosphere will be enhanced by the medieval band QUERCUS performing medieval European folk love songs with sometimes even an erotic context. You can also join in a prize-packed raffle.
Konvice hotel restaurant also offers an attractive New Year's Eve menu. Guests can choose from several main courses. The Krumlov Guitar Duo will accompany the evening. At midnight the New Year´s Eve bar opens on the viewing terrace where you can sipp a glass of sparkling wine.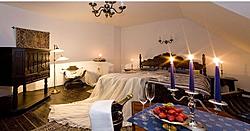 Maštal restaurant will enjoy the New Year´s evening with special dishes such as almond pâté with cranberry sauce, mix grill or honey cake with vanilla cream.
There will also be celebrations outside of the town. Hotel Swing lies at the bank of the Lipno lake in the middle of beautiful nature. Its New Year´s evening will include live music, a 4-course dinner, buffet dinner, raffle, a midnight toast and fireworks.
During your stay at Český Krumlov you can also join in a themed tour of the town focusing on Christmas customs and stories or enjoy a New Year's Eve concert of the band Papouškovo sirotci on Svornosti Square.
Advent and Christmas in Český Krumlov 2013