A Festive Procession Will Walk Through Český Krumlov on 6 April
On Saturday 6 April the town will plunge into the Renaissance period for several hours as a reminder of the magnificent Five-petalled Rose Celebrations. This period atmosphere will be created by a festive procession to celebrate the opening of the summer tourist season.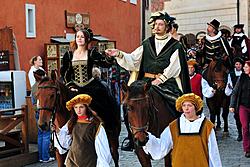 The historical procession will commence at 2 pm from the 5th Castle courtyard. From there the procession will continue to 2nd Castle courtyard and Svornosti Square where the Rosenberg rules and the Royal Burgrave will be given a welcome in dancing and music by not only local ensembles.
You can look forward to outstanding representatives of the city, the Petr Vok, William and his wife, Krumlov pipers, a set of a historical dances Fioretto, Fedrfechtýři with their flags and a parade will be decored with various costumes of also local guides and many other supporters of history. In honor of the opening castle season will ring bells and trumpeters will be ready with its fanfare.
Come and experience this unique sight.