Český Krumlov Synagogue
Regular series of five concerts of extraordinary artists who accepted the invitation to the VI. autumn edition of the Krumlov recitals.

The opening concert - October 29th introduces a trio of remarkable female musicians - Hlavenková Beata, Dorota Barová and Lenka Dusilová. You will hear songs from solo projects, as well as pieces all three had been able to participate on. Cello, piano, guitar, effects, three voices, Czech, Polish, Slovakian. Symbiosis of three musical worlds, a unique meeting of three female musicians, three strong women.
Parnas Quintet will come to Český Krumlov from Brno and will play pieces composed by G. Ligeti, A. Rejch, J. Ibert and W. A. Mozart. Woodwind quintet of young artists from the Moravian metropolis will premiere their concert on November 5th.
Piano, violin and cello... Trio Martinů which celebrated its 25th anniversary last year. 25 years full of success in international competitions, numerous concert tours around the world and a large number of CD recordings. That's Trio Martinů, who will introduce their music programme on November 12th.
A representative of the young European musical piano virtuosos generation coming to Český Krumlov is a Belgian pianist Florian Noack, with his own piano arrangements of orchestral pieces by Tchaikovsky, Rimsky-Korsakov and Rachmaninoff. We can look forward to his recital in the Synagogue on November 19th.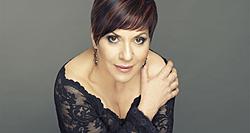 World-renowned mezzo-soprano opera diva Dagmar Pecková certainly does not need introduction. In the words of organizers: `We are honored this amazing star accepted the invitation for the final concert on November 26th.
Accompanied by Miroslav Axes on piano, Dagmar Pecková will sing Moravian folk songs, pieces by Janáček and other important Czech composers.