Český Krumlov will celebrate the arrival of spring from Friday 29 April to Sunday 1 May as it will be transformed into Magical Krumlov.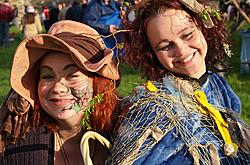 The rich and varied schedule of events opens on Friday 28 April with the traditional rag-day procession by the students of Krumlov Grammar school starting at 11 am from the school building through to Budějovická Gate, Caste Stairs and Široká Street onto Svornosti Square.

Satruday afternoon at the Brewery gardens will be dedicated mostly to kids. There will be joint decorating and erection of the Maypole, making of witchcraft-themed accessories and performances by pupils of the Artistic Elementary School and ensembles from the House of Children and Youth and the Kocero Community centre followed by the festive lighting of the bonfire and sausage roasting. The braver ones can take the Mysterious Trail through the Monastery gardens starting from 8.30 pm. Those who do not wish to explore the monastery gardens´ secrets can join the lantern procession setting off at 8.30 pm from Svornosti square through Široká Street to Latrán into the Brewery gardens.

The Magical Krumlov schedule of events also includes the May Day afternoon of open-door museums and galleries. Discounted Sunday viewings are offered by the Český Krumlov Monasteries, the Moldavite Museum or the Regional Museum. There will also be guided tours through the town or commented flowerbed tours in the "Magical Herb Garden". May time photo sessions are available at the Museum Photo Studio Seidel.

The May Market will premiere during Magical Krumlov on Svornosti Square offering a wide array of traditional Czech delicacies as well as handicraft demonstrations and sale of small trinkets linked to May – the month of love. The Market will be open all three days from 10 am to 6 pm.
Please accept our invitation and join us at Magical Krumlov. The entry fee is magical too – free.