From 30 September to 2 October Český Krumlov will transfer into the Baroque period. During the 4th Baroque Arts Festival the visitors may enjoy an atmosphere filled with Baroque music, period instruments, chamber songs and duets and also visit a modern interpretation of a Baroque opera.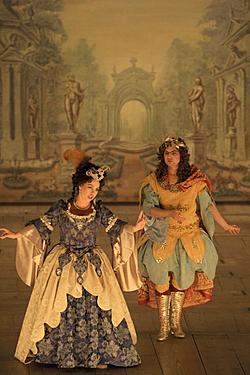 You may listen to tones of period music in the Castle, in the church or in the Bellarie summer chateau in the Castle garden. An opera called Joining of Peace and Mars will be staged on scene of the unique Castle Baroque theatre. The opera premiered in Venice in 1727 to celebrate the birth of French king Louis´ XV daughters. This serenade will be performed every evening during the festival in a modern era premiere.

The festival will be open by performance of Concilium musicum Wien in the Masque Hall on the Český Krumlov castle on Friday evening. A varied list of events on Saturday is guaranteed to bring some unique experiences: the day will open at 11 am in the summer chateau Bellarie located in the Castle garden with a Saturday matinee titled "Birth of a Violin Sonata in Baroque France". The program continues by a festive declaration of the best French Baroque fencing school workshop participant. Afterwards the festival will move to the Prokyš Hall of the Prelature where you can listen to the chamber concert by G. B. Bassani and his contemporaries at 6 pm. The evening will culminate in a unique event - fireworks created for the Sun King, an unusual reconstruction of French Baroque fireworks.

The Festival will conclude on Sunday at 11 am with a cathedral music concert of early Venice Baroque period.

For more information: www.ckrumlov.cz/fbu2011

Ticket sales and reservations at http://www.ckrumlov.cz/tickets/ or through the Český Krumlov Infocenter.