Advent and Christmas 2012
Advent and Christmas in Český Krumlov - this time brings you lovely moments of peace, relaxation and a lovely scenery dressed in a white cloak.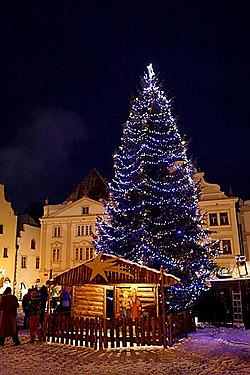 The weekend programme in the town center is an ideal opportunity for the locals to meet but also to walk through the town dressed in Christmas decoration, listen to carols, taste some mulled wine or putsch or visit the Advent market.
The first Advent Sunday (2 December) will bring the lighting of the Christmas tree on the main Square accompanied by Christmas carols. The Advent time will be filled with concerts, Christmas tales and a Christmas market will be open daily. The stalls will offer for sale traditional Christmas decorations, jewels and pottery as well as freshly made Old Bohemian food specialties. Wednesday (5 December) will be filled with devilish games assisted by good angels and St. Nicholas who will arrive at the Square. Baby Jesus will accept letters and Christmas wishes from children and adults through his post office on second Advent Sunday (9 December). You can join in Christmas carol singing on third Advent Sunday (16 December). Fourth Advent Sunday will bring a live crib and Christmas carols singing to town.
The bears of Český Krumlov cannot be excluded from the Christmas celebrations. They will break their winter sleep on Christmas Eve to enjoy the presented snacks and wish you a lovely festive season. The night of New Year's Eve and welcoming the New Year in Český Krumlov has an equally unforgettable atmosphere.
Christmas time will traditionally be the period where you can have an original Advent-themed photo taken or take a theatrical tour at the Museum Photo Studio Seidel. A new addition to this year's schedule will be for example video mapping - a visual projection on the Brewery yard or a trip on a historical train between České Budějovice and Krumlov, commemorating 20 years of town listing in the UNESCO World Heritage List.
For detailed schedule see here.