Flood Control Measures - the Vltava Riverbed Modification and Cleaning
Flood control works to the Vltava riverbed will take place from April 2009 to June 2010. The main construction works involve cleaning and widening of the current riverbed of the Vltava in Cesky Krumlov in the part between Mrázkův mlýn and a former weir at U Jatek. This reconstruction will bring limitations for people going down the river on boats, but the overall traffic on the river will not be restricted. There will be increased traffic of heavy duty trucks and higher level of noise and dust at the construction works exists. In summer season, the river mass removal works may cause unpleasant odour. Český Krumlov town policy is to minimize possible negative impacts to everyday life in the city through continues communication with Povodí Vltavy, the investor.
Basic information and restrictions
Start-up works commencement and supplier´s construction acceptance: Monday April 20, 2009
The Vltava river cleaning works commencement: Monday May 4, 2009
Planned date for the end of the reconstruction: June 2010
Website link for updated information: www.ckrumlov.cz/vltava a www.pvl.cz
Traffic:

- Overall traffic on the river will not be restricted , people going down the river shall follow instructions and pay special attention to their safety (instructions for people on boats). All directions to be taken on the river will be signposted (signs, buoys)
- Increased traffic at the entries and exits to the works - at Beneš´s bridge (Hradební Street) and at the river crossing for pedestrians at the brewery.
- Náplavka will be closed
- There will be no traffic restrictions as concerns the usual traffic and no traffic diversions are planned for.
- Weir at Jelení lávka (below the castle) - from May 4, 2009 to May 31, 2009 - the basin at Jelení lávka weir will be emptied.
Noise due to construction works: Monday to Thursday: 7:00 - 21:00, Friday to Sunday: 8:00 - 21:00
Realisation Plan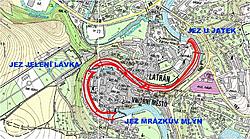 Framework Schedule
April 20, 2009: Construction site accepted by Supplier

April 21, 2009: Construction site preparation phase starts

May 2009: Removal of Island, riverbed cleaning and works communication road construction

June 2009 - August 2009: Disposal of removed river mass once a week - Monday June 2009: Riverbed cleaning, disposal of remaining material
June 19. - 21: Five Petalled Rose Festival - no construction works take place
July 2009: Pavement, riverbed cleaning, construction of a berm
August 2009: Removal of a construction site road, riverbed cleaning and construction of a berm
September 2009 - June 2010: Riverbed cleaning and construction of a berm, pavement, removal of construction site road and road construction.
More information at www.ckrumlov.cz/vltava