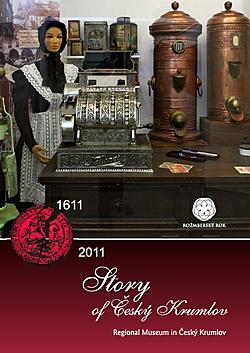 Please accept our invitation to walk through the history of the town of Český Krumlov.
This is so far the largest exhibition by the Regional Museum in both size and content will remind you of both the joyous and sad events in the town's history. You can also peek into period pharmacy, classroom or a shop.
The story of Český Krumlov commenced in the prehistoric period and continued through the Medieval Age until an important milestone - 2 August 1309. On this day Henry I. of Rosenberg attached his seal to a scroll in which Český Krumlov is called a town for the firs time. This small scroll in Latin bears thus great importance for Český Krumlov. This is your unique opportunity to view the original scroll at the exhibition in the Regional Museum.
Apart from this parchment scroll you can also view over 80 other highly historically valuable scrolls and archive documents. Among them are documents of Petr Vok, Maria Theresia or Rudolf II. and they are all literally breathing history.
The story written and lived by Český Krumlov inhabitants is told not only by documents but also by photos and painting. You can learn how the face of the town has changed over the centuries and how the streets and houses, some of them still preserved, have altered their appearance. During the exhibition you can visit a pharmacy, a classroom, a gentleman's drawing room or a coffee retail shop. The well-preserved period furniture as well as a number of interesting instruments and artifacts will enhance the feeling of going back in time.
The exhibition Story of Český Krumlov will please not only history fans but simply everyone who wishes to go down the memory lane or learn about the story of the life of one of the most beautiful towns.
First part of the exhibition, covering the period from most ancient history until 1945, was opened on 23 September.
The second part, covering the period from the end of World War II until present time, will be opened on 23 February 2011.
Both parts of the exhibition will be open to visitors until the end of 2011.
Find out more about the exhibition Story of Český Krumlov
Photo gallery from the festive opening
| | | |
| --- | --- | --- |
| Supported by | | |