For the 2017 season at the Open-Air Theatre with the Revolving Auditorium Český Krumlov, the South Bohemian Theatre has prepared a number of titles appealing to audiences - total 91 performancies.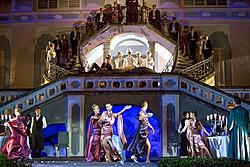 Opera lovers will be offered a new piece - the opera drama Il Trovatore by Giuseppe Verdi, directed by Tomáš Studený and with Mario De Rose's musical production. Other highlights include the splendid opera by Antonín Dvořák, Rusalka, directed by Jiří Heřman, and the opera The Cunning Little Vixen by Leoš Janáček, which was staged with great success in 2016 under the direction of the duo SKUTR.
The ballet ensemble will present a novelty in front of the Revolving Auditorium - the ballet story of Valmont. The Marquise de Merteuil and the Vicomte de Valmont hatch plots for which not only their innocent victims but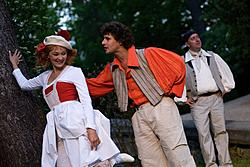 The Drama Ensemble of the South Bohemian Theatre will stage at the Open-Air Theatre a renewed premiere of the comedy The Decameron, the comedy Henry VIII's Wives and in addition the detective comedy The Hound of the Baskervilles.
The Little Theatre will return with the popular fairy-tale action comedy for the whole family, The Firebird and Zorro the Fox.
The tickets at Infocenter Český Krumlov available.