16 July - 6 August 2016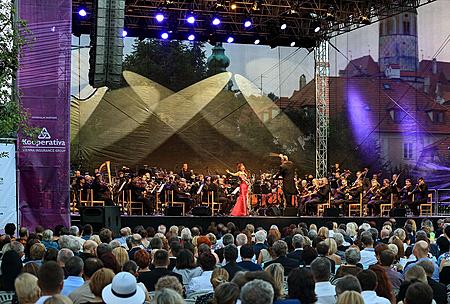 The International Music Festival Český Krumlov will celebrate a quarter century of its existence in 2016 and this 25th jubilee will therefore include reminiscences of past concerts by exceptional artists who have participated in the Festival. The following artists have - among others - accepted the invitation to perform during the 2016 Festival: Arturo Sandoval, Daniel Raiskin, Roger Isaacs, Bohuslav Matoušek. A number of other artists of world renown will also perform during the four weeks of Festival duration including the main star of the 25th Festival - the Peruvian tenor Juan Diego Flórez. The Festival also gives an opportunity for young artists such as Jan Mráček, Petr Nouzovský, Karel Martínek and others. Two young winners of prestigious international competitions will also perform. The orchestras and ensembles presented will be mostly Czech and the music performed will belong to key oeuvres of world classical music as well as lesser known pieces.
Apart from classical music concerts there will as usual also be events dedicated to other musical genres: a concert of a living jazz legend - the trumpeter Artur Sandval with CBC Big Band, an evening of film melodies by Ennio Morricone and Luboš Fišer, a project by Carlos Piñnana called Flamenco Symphony, an evening of musical melodies Bravo Broadway! with Broadway theatre stars, a concert by chanson singer Szidi Tobias and more. The Festival will also pay homage to W. A. Mozart whose 260th birth anniversary will occur next year. The Festival will culminate in a truly magnificent performance of Carl Orff's Carmina Burana performed by the Czech Radio Symphonic Orchestra and two singing choirs.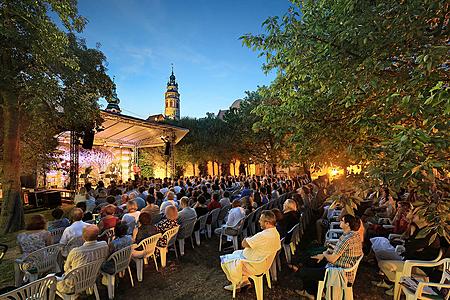 A total of twenty two concerts is scheduled to take place during the International Music Festival Český Krumlov 2016 that will take place in both traditional Festival concert locations (Brewery gardens, Kooperativa gardens, Castle Riding Hall, Masque Hall) and in other attractive places in Český Krumlov such as the Castle chapel, a church or a garden at the newly restored monastery. The 25th International Music Festival Český Krumlov will take place between 15 July and 6 August 2016. There will be nine more concerts in the same time period compared to last year; new additions include Tuesday concerts at the Masque Hall, Sunday concerts at the Monastery church and at the Castle chapel and last but not least there will also be two concerts taking place during the same evening (a chamber orchestra concert at the Masque Hall and a concert at the Brewery gardens). There will also be more grand open-air concerts than in the previous years.
Advance ticket sales commence on 14 December 2015 from 2 pm.
For more information: www.ckrumlov.cz/mhf