The International Music Festival will take place in Český Krumlov, a fabulous town listed among UNESCO World Heritage Sites, from 18th July till 16th August for the twenty-third time. It consists of a total of 17 concerts, which will take place in the unique setting of the castle and garden as well as other locations and at which leading foreign and Czech performers will make their appearance. The festival will be inaugurated by a current star of the world of opera, guest of the most prestigious world stages, German tenor Jonas Kaufmann.
Opera Star Jonas Kaufmann
The forty-four-year-old German tenor Jonas Kaufmann is, according to the critics, one of the greatest and most interesting personalities of the current opera world. He has enthralled audiences in famous opera houses as well as lovers of live broadcasts from the Metropolitan Opera in New York as, for example, Gounod's Faust or Siegmund in Wagner's The Valkyrie. He confidently copes not only with dramatic and heroic roles but also with Italian bel canto and romantic positions full of passion. In terms of singing and acting, he has matured into a personality which is a guarantee of artistic quality. An attractive appearance and temperament underline his deep toned voice full of emotion, which Kaufmann masters with perfect technique and with which, as one critic wrote, "he can achieve whatever he likes". Jonas Kaufmann is at the height of popularity and each of his performances becomes a unique event. This is also proven, for example, by the fact that the Metropolitan Opera organized Kaufmann's solo song recital with piano accompaniment a few years ago. They last made this possible for Luciano Pavarotti in 1994. During the opera gala concert, which will inaugurate the festival in Český Krumlov on 18th July, Jonas Kaufmann will be accompanied by the Prague Radio Symphony Orchestra under the baton of Jochen Rieder.
Concerts in Honour of the Year of Czech Music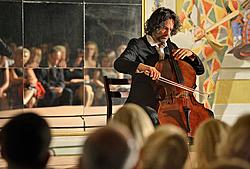 An important fact was taken into consideration when creating this year's program - 2014 is being celebrated as the Year of Czech Music so several concerts will be dedicated to Czech music. Music is a profitable investment and brand for the Czech Republic. Where else, if not in art, can we meaningfully speak of something as being "Czech"? Music is a presentable part of the Czech cultural identity. The Czech Republic can also offer quality jazz and folklore traditions, which meet ever greater international response. Years of Czech Music therefore do not concentrate only on the works of the authors, whose anniversary is being celebrated, one type or music genre, but on the support and reflection of Czech music as such. The Year of Czech Music 2014 is a program supported by the Ministry of Culture of the Czech Republic in cooperation with the departments of education, foreign affairs and local development. It wants to take advantage not only of the spontaneous increase of foreigners' interest in Czech culture but also support the domestic environment in terms of finance, organization and promotion.
One of the domestic ensembles to perform at the festival will be, for example, the North Czech Philharmonic Teplice with conductor Tomáš Brauner. They will perform a symphonic concert in honour of the Year of Czech Music - Smetana's My Homeland at the Castle Riding Hall. After the opening concert, the Prague Radio Symphony Orchestra will present itself once again in front of the festival audience under the baton of Romanian conductor Ion Marin and together with violinist Ivan Ženatý they will pay tribute to Antonín Dvořák through his works. The outstanding Czech ensemble Collegium 1704 with conductor Václav Luks and soloists will perform compositions by Jan Dismas Zelenka at the Baroque Theatre. Chamber concerts will be presented at the festival by Czech performers such as, for example, violoncellist Jiří Bárta, harpist Jana Boušková, Škampa Quartet, Trio Martinů and Pavel Haas Quartet.
Foreign Soloists and Other Genres

The festival will welcome, among other artists, young Chinese pianist Shiran Wang, who enjoys international recognition. Max Wilcox, the former head of the field of classical music in the renowned American company RCA Records and producer of Arthur Rubinstein's recordings, declared that he sees the next Rubinstein in her. She will perform at the festival together with the Škampa Quartet. Among other protagonists of this year's festival you will find renowned Russian violoncellist Natalia Gutman, who will play together with the Kammerphilharmonie München. An interesting piano duo consisting of Turkish sisters-twins Ferhan and Ferzan Önder, who will play Dvořák's Slavonic Dances for Piano Four Hands, also figures in the program of the new festival year in Český Krumlov.
The program of the festival does not consist solely of so-called "classical music" but includes a number of genres. This year a Czech multigenre musical evening will take place on two stages in the Brewery Garden titled Czech Evening, during which singer Vojtěch Dyk in original cooperation with Josef Buchta's big band B-Side Band from Brno and the Gustav Brom Czech Radio Big Band and its soloist will perform. On the second stage representatives of brass and dulcimer music will play - South Bohemian brass band "Jižani" ("The Southerners"), "Mladá dudácká muzika Strakonice" ("Young Bagpipe Music Strakonice") and Jiří Janoušek with dulcimer music. The musical genre also returns to Český Krumlov. Popular musical singers and Thalia Award winners Monika Absolonová, Jan Kříž, Leona Machálková, Ondřej Ruml and others will present a selection from Czech musicals and melodies from Czech musical films such as Ballad for a Bandit, If a Thousand Clarinets, Hop Pickers, A Night at Karlstein, Dracula, Joan of Arc and Hamlet. A high spot of the festival program will be the PaCoRa trio - violinist Stanko Palúch, dulcimer player Marcel Comendant and contrabassist Róbert Ragan, who will perform together with singer Linda Ballová in a fascinating ride featuring folklore music and jazz. Among other performers and representatives of the crossover genre you may find the Hungarian ensemble Gypsy Virtuoso Orchestra with artistic director Sándor Jávorkai or a very original Slovak chamber orchestra Classical Music Maniacs, which is, as they themselves say, "inimitable in every note, trainer or wig". They will present a unique program titled Bach goes Samba and Tango. The honorary task of closing the 23rd year of the International Music Festival Český Krumlov will belong to the stars of opera of the Grand Theatre in Moscow (or Bolshoi Theatre), whose concert will take place on 16th August in the Brewery Garden.