November Fun in Český Krumlov
There are now less tourists in the crooked lanes, the Vltava river banks are covered with colourful leaves and the Castle has closed its gates for the year. Nevertheless Český Krumlov has still a lot to offer this autumn.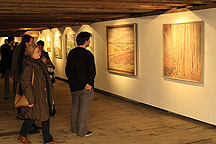 Egon Schiele Art Center invites you on the first November weekend (5 November) to the opening of an art exhibition by Eva Kmentová (1928 - 1980) and Helga Philipp (1939 - 2002). The opening of the exhibition will be complemented by the widely anticipated uncovering of the Krumlov Madonna by Eva Prokopcová located on the façade of house Nr. 73 in Široká Street.
Take a unique opportunity to visit the Egon Schiele Art Center and Museum Photo Studio Seidel during their joint promotional weekend (27 - 28 November). During this weekend you can visit all exhibitions in both museums by buying just one entry ticket.

An interesting lecture will be held in the Museum Photo Studio Seidel on 9 November. It is intended not only for passionate photographers but also for history fans. During the lecture you will see newly reconstructed albums with the oldest postcards by Josef Seidel depicting views over the Alps, central Šumava mountains, Český Krumlov region and others. The lecture will also include a demonstration of restoration techniques as well as comparing restored and non-restored albums. You will also see projections of postcards from digitalized albums.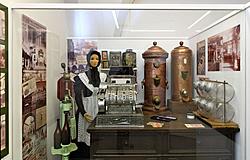 You can uncover the mysteries of the past in the Regional Museum by visiting the exhibition Story of Český Krumlov. Here you will be guided through the town's rich history and shown the way of living in times long past and present. The Municipal Library brings you a unique travelling exhibition called The Bible Yesterday, Today and Tomorrow. Between 1 and 11 November you can view in the Municipal Library various historical Czech and foregin Bibles as well as modern and most recent Bibles in various formats and executions and Bibles for children.
The Municipal Theatre together with the Ántré theatrical club has prepared a colourful musical mixture. The following bands will perform in the theatrical club: Monogram (6 November), Sunflower Caravan and Diaryba (13 November), an Irish band Before Breakfast (20 November). The musical menu will be completed by the following concerts held in the Municipal Theatre: Jiří Schmitzer (23 November), Paul Millns and Butch Coulter duo (24 November) or Professor Beatles/John Lennon Revival Band (27 November).

On top of that you can visit a number of museums and galleries in Český Krumlov or take trip outside of the town. For example you can visit the chambers at the Rožmberk Castle or practice sports around the Lipno Lake.

The end of the month will already belong to Advent (26 - 28 November). You can look forward to Christmas fair, a fairytale for children in the Municipal Theatre or to the lighting of the Christmas tree.