Krumlov Watermen Marathon 2010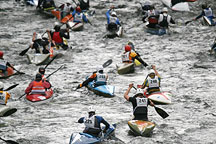 The summer is almost ready to hand over the reigns to autumn. Days are getting shorter and the sun is drawing lower on the horizon. A light mist is starting to appear across the river in the morning and the nature is full of bright colours. The river flows as usual but the traffic on it is gradually getting less busy. The summer peak is over and people are no longer seeking refuge from the heat in the river. Many of the boats are slowly being stowed away into winter storage. Just the hardcore fans of romance are sailing the river now.
But not only they...
This is the closing period of the sporting canoe season. All important races are finished, the points are counted, the medals are distributed, successes had been celebrated and failures had been (almost) forgotten. It is time to say farewell to the season. As the canoe sportsmen are active people, their farewell will be active too. The Krumlov Watermen Marathon (9 October 2010) has been a traditional occasion to end the season.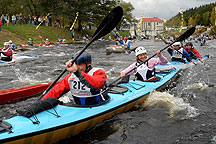 This will be the eighth year of the Marathon and this event has been steadily gaining popularity with the visitors. The participant count has also been steadily increasing over the years. Close to a thousand persons have sailed down the waves of Vltava last year! This is not an event for just a few specialized sportsmen but for a broad spectrum of fans.
Active canoeists, amateur and professional sportsmen, participants of the most important races, national and world champions all take part in the race. Some of them arrive to compete for the top spot in this prestigious contest, others come to enjoy the atmosphere and sail on an unusual vessel. There are 21 main and 5 child vessel categories in the race. Even participants who are only occasional canoeists can find a fitting category to compete. The Krumlov Watermen Marathon is also popular with the "diehard tourists" who otherwise prefer a calm boat ride.
This is an attractive race for participants from near and far as there are people from all corners of the country as well as from abroad arriving to take part in the "Celebration of canoeing". The number of countries that now partake in the race has reached a double-digit number. Participants come from Europe but also from overseas.
This event is not just about sailing down the river. There is also social and cultural entertainment taking place, in particular in the Brewery Gardens. This is the venue for different contest and games for children as well as for entertaining musical and theatrical performances. A concert and a dancing feast will conclude an action-packed day.
For more information click here.