Services
>
Provozovny
>
Český Krumlov
>
Tourism
>
Hire services
Motorcycle Museum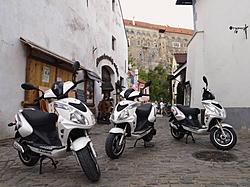 Široká 80
38101 Český Krumlov
Contact: Marek Šimon
Telephone: +420 736 634 460

E-mail: info@krumlovskymlyn.cz
WWW: www.krumlovskymlyn.cz

Location: Český Krumlov
You don't have to limit your stay in Cesky Krumlov to the area within the city borders – rent a scooter and you can explore the beauties of neighbouring as well as further surroundings of the city. Whether you enjoy independent travelling and aim at exploring as much as possible, or simply want to have fun, a scooter is the best option for you.
With our scooter you can set out for a trip followed by a picnic or bathing, or you can start discovering the South Bohemia. The drive itself along Soth Bohamian roads will be an adventure!
Not Found
The requested URL /iscrck/php/katalog/kpr/cenik_ukaz.php was not found on this server.
---
Apache/1.3.29 Server at localhost Port 80