Services
>
Provozovny
>
Region of Český Krumlov
>
Towns and villages in the region
>
Willages
Chvalšiny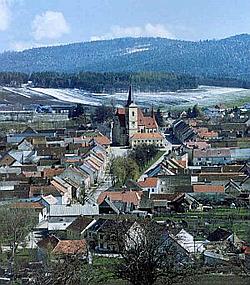 Chvalšiny
38208 Chvalšiny
Contact: Bohumil Havlíček, DiS.
Telephone: +420 380 739 149
Fax: +420 380 739 129

E-mail: podatelna@chvalsiny.cz
WWW: www.chvalsiny.cz

Location: Region of Český Krumlov
Geographical area : 2793 ha

Altitude : 570 m above sea level
Parts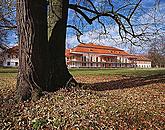 Chvalšiny
Borová
Červený Dvůr
Hejdlov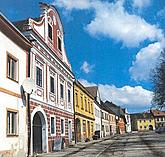 Origin of the Name :
The name of the community originally read as "Chvališín"
originated from the possessive pronoun derived
from the personal name "Chvališa" or "Chvališ"
by adding the suffix "-ín",
and it meant "Chvališs (yard)".

There had been many transcription forms of
this community name:
1281 Qualischigen
1283 Qualsing, Qualsching
1423 Chvalšiny (for the first time in Czech)
1473 Kalsching (for the first time in German)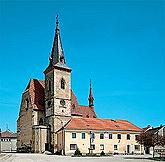 Church of the Holy Mary Magdalena in late gothic style, built from 1487-1507 on the site of an older church. Significant example of Rosenberg late Gothic.



Baroque Town Hall from 1667
fragment of pillory from 1690 with statue of St. Jan Nepomucký.
nearby - 12 historically protected chapels from the 18th and 19th centuries
Červený Dvůr Castle - Rococo chateau, surrounded by English gardens - presently the Chateau houses a psychiatric rehabilitative center
Nature
The town is located in the Blanský Forest Nature Reserve, a little ways from the Kleť Mountain natural reservation
(mixed forest with a predominance of beech trees).