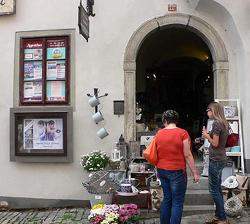 An exhibition of oil paintings on canvas of Alexandra Jiříčková is now starting, placed on the first floor of the newly opened gallery MAJA, which is situated in the historical part of the city (Latán 44, 1st floor).It is an authorial exhibition of Alexandra Jiříčková, graduate of Prague Academy of Fine Arts (2009), from the School of classical painting techniques of professor Zdeněk Beran.

The entrance to the gallery MAJA is near the principal gateway of the first courtyard of the castle.

On the exhibition you can see paintings from the cycle Rorschach Tests and from the cycle Pigeon Epopee. These paintings are completed by small format still-lifes and flower paintings.

The gallery MAJA is opened from Tuesday to Saturday, from 13:00 to 17:00. Admission is free.