Wine Festival Český Krumlov ® will offer also blind tasting
The 6th annual Wine Festival Český Krumlov ® promises a truly rich programme full of an enticing array of mainly wine-related and gastronomic experiences. During six weeks, from October 20 to November 30, visitors and residents can look forward to meeting wine experts and tasting wines from different parts of the world. This year again, the leading Czech sommeliers and winemakers such as Ivo Dvořák, Jakub Přibyl, Pavel Buble, Jiří Mecner, Klára Kollárová or Michal Šetka will be coming to Český Krumlov.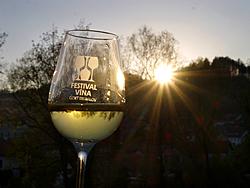 The Wine & Gastronomy & Culture programme, arranged by the organizers of the Český Krumlov Wine Festival in cooperation with local restaurant keepers, will offer during the festival twenty possibilities to enjoy delicious wines and gastronomic specialties from all over the world, and this year for the first time true gems among the wines. You will be able to taste e.g. favourite wines of the famous Czech sommelier Klára Kollárová, wines from the vineyards where the Rosenbergs have left their mark, emotive wines from Burgundy, but also, for example, wine coctails or wines grown without chemical interventions. For wine connoisseurs there is an Evening of Iconic Wines on the programme prepared, where the famous sommelier Ivo Dvořák will present wines with an individual character that you will not otherwise enjoy. A novelty of this year's programme will also be the opportunity to try out a so-called blind tasting together with professionals and so to contribute to the annoucement of the Wine of the Festival.
This year again there will be the traditional St. Martin´s Arrival on 11 November at 11.11 am and St. Martin´s wine opening and tasting on Svornosti Square as well as St. Martin´s feast in the pub Depo. St. Martin´s wine and menu will be served in many local restaurants from Saturday 11 November until Sunday 19 November.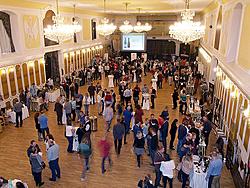 The popular Castle Wine Celebration will take place on Saturday 25 November at the Castle Riding Hall. This tasting and sales event will offer more than 300 different excellent wine samples and an opportunity to buy at special Festival price. In addition to the traditional stellar wineries Volařík, Reisten and Sonberk, the Bzenec Chateau Winery (winner of the Winery of Year 2015 and 2016) and Vinselekt Michlovský will return once again to the Chateau Riding Hall. The organizers will also introduce several new wineries, such as winery Nepraš from Pavlov, Púrynka winery from Velké Bílovice, and from the foreign ones e.g. Neustifter and Schuckert wineries from near-by Weinviertel location. Weinviertlu.
Tickets for the Wine Festival and Wine & Gastronomy & Culture events can be purchased at the Information centre Český Krumlov or online under www.ckrumlov.info/tickets.