As sold out concerts and extremely positive feedback from listeners shows, the Český Krumlov Baroque Arts Festival has been growing in popularity among lovers of historical music from all over of Europe and beyond. The 9th Baroque Arts Festival will take place from 16th to 18th September 2016.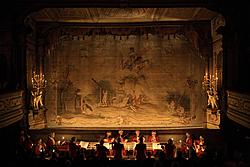 The main title of a world premiere included in the festival will be
an opera by A n t o n i o C a l d a r a : L' A S I L O D' A M O R E
(Amor's Refuge), Festa Teatrale based on libretto by Pietro Metastasio, composed in 1732 for Český Krumlov and first presented the same year in Linz. The new world premiere will be presented as part of a 250 year anniversary since the opening of the Castle Theatre in Český Krumlov (1766).
The programme of the 9th year of the festival will offer other unique concerts, eg. Madrigals of Elizabethan England played by Societas Incognitorum (Brno), or chamber music of the French Baroque era entitled In the Shadow of the Sun King by Le Jardin des Arts (Hungary). Favourite baroque fireworks and illuminations in the castle gardens will also be presented.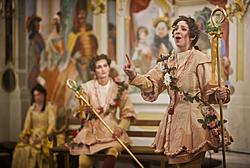 You can buy advanced tickets for the festival on www.ckrumlov.cz/opera and the organizers are expecting quite an interest from its followers. "We have noticed growing interest each year, all concerts in 2015 were practically sold out, the new world premiere of the opera L'Amore in Musica by Antonio Boroni has been sold out long before. We are really pleased that the Baroque Arts Festival has been gaining a name for itself, the new world premieres we have been presenting are of such quality, an experienced and demanding listener can appreciate,'" Mr. Jiří Kiprý, the festival director says. He also mentions that the profit from ticket sales covers approximately a half of the 3 million festival budget, the rest is financed by public resources and sponsor gifts.