Baroque Arts Festival 2010
The theatrical decorations are set, candles are lit, musical instruments are tuned … All is ready for the sounds of an Italian opera in the Baroque Castle Theatre. Welcome to the Baroque Arts Festival!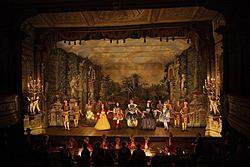 A modern age world premiere of a Baroque opera by J. A. Haas, Tito Vespasiano ovvero La Clemenza di Tito performed by the Hofmusici ensemble is set to be an unforgettable experience. All the operas performed as part of this Festival are unique. These are operas that are no longer in performance or previously unpublished operas. The exceptional Castle Baroque Theatre enhances the effect of all performances. Do not miss this opportunity to sample true Baroque style on 3 October.
This however is not all that the Festival has to offer. The entire Festival will be opened on 1 October by a Baroque dance performed by the Austrian ensemble Hof-Dantzer. You can also look forward to French court dances from the period of Louis XIV. The Monastery Church will see a Baroque-style organ performance on 3 October. An Austrian master Peter Frisée will perform an organ matinee on an instrument dating from 1715.