Ekofilm 2010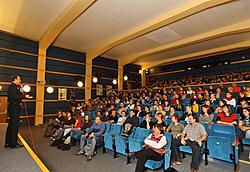 The 36th International Film Festival on the Environment and Natural and Cultural Heritage - EKOFILM 2010 - will take place on 4 - 10 October in South Bohemia. The festival will be launched on 4 October in Třeboň, in the presence of distinguished guests. As well as the screening of the opening film at Světozor Cinema, you will also be able to join a bicycle ride around Svět Pond, or enjoy a performance by one of today's popular and sought after bands, The Tap Tap, formed by students from Jedlička Institute. As in the previous two years, the whole festival will be hosted by good soul, actor, improvisation artist and master of ceremonies, Jaroslav Dušek, who, as well as hosting the festival, will appear in two performances.
EKOFILM will remain in Třeboň until 6 October. At the same time, festival events will also be taking place at traditional venues in České Budějovice from 4 to 7 October: at Kotva Cinema and the University of South Bohemia; which will host the festival in the beautiful, new Academic Library this year, which is easily accessible to the general public. Some events are also planned in the Kanzelsberger House of Books café. The festival will move to Český Krumlov on the weekend of 8 to 10 October, to the City Theatre and other venues in the city. The EKOFILM Cinemabus will also be visiting pupils in selected South Bohemian towns and cities throughout the week.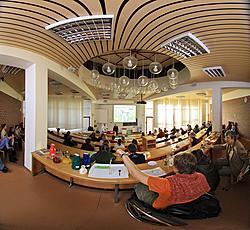 The main theme of this year's festival is the International Year of Biodiversity. Over two hundred films have been entered in the competition section of the festival, many of which deal with this specific theme. However, the focus of the whole festival is much broader, so films will not be "monochromatic". Selected films from the catalogue can be seen as part of the festival programme, or individually in the "Screenings on Request" section.
EKOFILM is also a place for discussion, workshops and forums with interesting guests from the art and professional world. As a counterweight to the festival's serious topics, there will be a series of concerts, theatre performances and other programme events including exhibitions and the chance to taste organic wines. For example, we can already invite you to take a stroll through the Ekofilm forest, to see how it's grown in the four years since its foundation. And those not keen on walking can take a seat in the audience of the Yo Yo Band or Jazz Section of Immediate Film Orchestra (Okamžitý filmový orchestr).
The festival welcomes all those who are not indifferent to where and how we live. Admission is free!
More information here.