Three museums, the castle tower, and an internationally renowned gallery open their doors for half the regular admission price to visitors and local residents alike, but only if they take advantage of this season's new offer: the Český Krumlov Card. The Card goes into effect on 1. May 2011, making Český Krumlov the first smaller municipality (as per number of inhabitants) to have such a comprehensive cultural program of this type.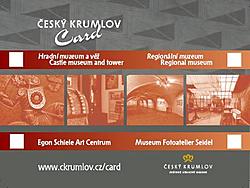 "We took inspiration from similar projects abroad, particularly the cards of our German-speaking neighbours," says Daniel Kintzl from the Český Krumlov Development Fund. The Fund is issuing this card with the objective of supporting tourism as well as inviting local residents to the attractions of the town, a registered UNESCO monument. "Most of all, we want to motivate tourists to stay longer, or come back to Český Krumlov more often. They'll have an entire month to go through all four of the Card's important cultural institutions," Kintzl adds.
The Český Krumlov Card escorts visitors to four of the most sought-out sites in the town, providing admission to the Castle Museum and Castle Tower, the Regional Museum, the Seidel Photographic Studio Museum, and the Egon Schiele Art Centrum. The Card saves visitors 50% off the regular admission price, and families save even more, 60% off family admission price. Card-holders can use the Card at their own pace and leisure - since it's not really feasible to go through all four attractions in one day, the card is valid for 30 days. What's more, the Card is transferable, so if the Card-holder doesn't use up the entire Card, he can give it to someone else. The Card can be bought at all named attractions as well as the Infocentrum at the Svornosti town square.
The Card takes people back into history as well as covering the present. Visitors can return to the age of the Lords of Krumlov, Rožmberks, and other important local aristocracy that ruled from Český Krumlov over the centuries and transformed the town. The Card provides access to thousands of newly-exhibited valuable depository items, including the shrine of St. Reparat in the Castle Museum. It also presents the story of the town's 700 year history including a detailed ceramic model of the historic old town in the Regional Museum. The Seidel Photographic Studio Museum offers a concise presentation of the early times of professional photography and tells the story of the local pioneers of this unique craft. The Český Krumlov Card also opens the doors to the town's largest and most renowned exhibition hall, the Egon Schiele Art Centrum. The permanent exhibition presents the drawings, watercolours, and documentation on the life and works of the Expressionist Egon Schiele, and the gallery also holds large-scale exhibitions of carefully-selected Czech and international artists.
More on www.ckrumlov.cz/card