Services
>
Places to visit
>
Český Krumlov
>
Things to do
VOROPLAVBA.CZ - Wooden rafting - Parkán 1
Parkán 1
38101 Český Krumlov
Contact: Radek Šťovíček
Telephone: +420 605 218 018

E-mail: info@voroplavba.cz
WWW: www.voroplavba.cz

Location: Český Krumlov
Type: Things to do
Offered services:
Ticket and other booking
On-line ticket booking
Our company provides sightseeing cruises in the historical centre of Cesky Krumlov on iconical vessels – wooden rafts with unique atmosphere.

The duration of the cruise is 50 minutes. During this time, you'll sail round the whole meander of the central Cesky Krumlov.

When ordering the whole vessel, the duration of the cruise can be extended or shortened.
Regular cruises
| | |
| --- | --- |
| Dates | From - To |
| 16.05.2020 - 31.10.2020   (Mo-Su) | 10:30 - 18:30 |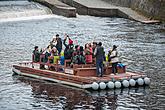 REGULAR CRUISES

Duration of a wooden raft cruise is 50 minutes. To sail around the whole meander of Český Krumlov centre takes you less than one hour.

The cruise starts at the pier Myší Díra, in the narrowest point of the Český Krumlov meander just opposite city park. The cruise continues around Český Krumlov town along the Vltava corridor and goes further towards the biggest jewels of the town. From river you can enjoy a wonderful view e.g. on the St. Vitus Church and a former Jesuit college, the Rybářská-Street, a brewery and last but not least the castle complex. The tour ends at the Eggenberg brewery, next to the town centre.

Daily, every second hour in May-Jun and September-October
Daily, every hour in July and August
Possibilities: Possibility of EUR payment
Type of offer: for individuals and groups
Valid price list: 01.01.2020 - 31.12.2020
Appropriation
Unit
Price per unit
1. Regular cruise

Daily from 10:30 to 18:30 in May-Jun and September-October every second hour, in July-August every hour.

pers.
450 CZK
2. Regular cruise - Children up to 12 years old
person
225 CZK
3. Children up to 5 years

free

person
0 CZK
Family
1200 CZK
Cruises on order
| | |
| --- | --- |
| Dates | From - To |
| 01.01.2020 - 31.12.2020   (Mo-Su) | |
Cruises for groups, corporate and private events, cruises with a program or a small snack, special evening cruises, and departure time on request. All of this you can experience with cruises on order.

Would you like to enjoy Český Krumlov on a wooden raft private? Or do you plan rather some corporate or group event? Then take advantage of booking the whole raft!

It will be pleasure for us to provide you with a cruise to make your dreams come true. Whether it is duration of a cruise, refreshments, music or a qualified guide, we don´t have any problem to follow your suggestions. We welcome any idea which would make your cruise special and bring you an unforgettable experience.

Wooden raft capacity: 12 persons (one order max 24 pers.)

RESERVATION NECESSARY MIN 2 DAYS IN ADVANCE
Possibilities: Guided tour, Possibility to arrange a tour out of the opening hours, Possibility of EUR payment
Type of offer: for individuals and groups
Number of person in the tour: To 12
Tour with a guide: Czech, German, English, Russian
Valid price list: 01.01.2020 - 31.12.2020
Appropriation
Unit
Price per unit
4. The whole raft

group max. 12 pers.

group
4500 CZK
Original gondola rides
600 CZK
Photogallery