Services
>
Places to visit
>
Český Krumlov
>
Galleries, studios
Egon Schiele Garden Studio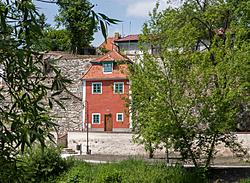 Linecká 343
38101 Český Krumlov
Contact: Egon Schiele Art Centrum
Telephone: +420 380 704 011
Fax: +420 380 711 191

E-mail: office@schieleartcentrum.cz
WWW: www.schieleartcentrum.cz/cs/zahradni-atelier/88/

Location: Český Krumlov
Type: Galleries, studios
Offered services:
Ticket and other booking
Renting of the rooms
Touristic souveniers for sale
Garden House - Garden Studio
| | |
| --- | --- |
| Dates | From - To |
| 17.07.2019 - 31.08.2019   (We-Su) | 11:00 - 17:00 |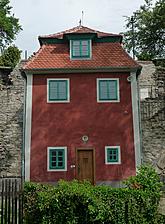 The little house on a terraced hillside was built during the Neoclassical building boom around 1800. In 1911 the painter Egon Schiele (1890-1918) lived and worked here. Willi Lidl, a pupil at the local grammar school, found the house for Schiele, negotiated the lease and requested the undertaking of a series of repairs and modifications. Thanks to the helpfulness of the owner at the time – a dry goods merchant called Max Tschunko – Schiele was able to live here for free with his redheaded girlfriend the model Wally Neuzil. He loved the "Summer" house and flower-filled terrace. He created a series of studies here, drew the children who came to visit him, old women, retired soldiers and young girls.

He painted Krumlov motifs in oils on wooden panels; thus creating such famous pictures as Town on the Blue River, Dead Town, Krumlov by Night or View of Houses and Roofs of Krumlov, for which he asked 100 crowns at the time. However, it seems that even at that price nobody in Krumlov was willing to buy the pictures as they did not correspond to the general taste of the day.

After more than 100 years artists have returned to the garden house; they have worked here in the winter months since 2012 and artists from all over the world exhibit their work in the house in the summer months.
Photogallery