Services
>
Places to visit
>
Český Krumlov
>
Museums
Regional Museum in Český Krumlov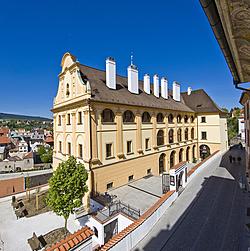 Horní 152
38101 Český Krumlov
Contact: Mgr. Filip Lýsek
Telephone: +420 380 711 674
Fax: +420 380 714 249

E-mail: info@muzeumck.cz
WWW: www.muzeumck.cz

Location: Český Krumlov
Type: Museums
Offered services:
Ticket and other booking
On-line ticket booking
Renting of the rooms
Touristic souveniers for sale
At the present time the Regional Museum administers 22 000 registered items of the collection fund, i.e. next to 34 000 objects. The museum library contains a set of 5 000 books, more than 1/5 has a collection character.
Accessibility by road:
In Český Krumlov pedestrian zone
CERAMIC MODEL OF THE HISTORIC CENTRE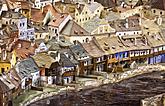 The idea of building a model of the historic core of Český Krumlov in its ideal condition from around 1800 came into being in the mind 1970s. The ceramic model on a 1:200 scale was made in 1977-1984.

Preparatory works were supported by studying archive materials and resources, period plans and vistas, old graphic maps and photographs, and also by doing direct measurements on site.

The authors of the odel, Ing. arch. Petr Pešek and ceramist Jana Pešková chose an unusual technological process and made individual buildings as well as the ground relief from colored baked clay.

The model covers an are of 26 hectares of the urban preservation area, about 800 structures, meanders of the Vltava and the fortification, walls and gates which no longer extist.

The complete model was first introduced to the public in early 1985 and has been one of the most appreciated and admired museum exhibits.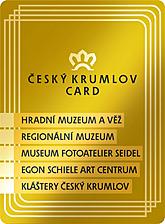 Want to see the best that Český Krumlov has to offer while taking your time to do it at your own pace? Then the Český Krumlov Card is just for you.

* admission to five unique attractions included in the price
* a 50% saving off the regular ticket price
* card can be used for up to 12 months
* card is transferable to another person in the same category
* for sale at Tourist Information Centre Český Krumlov and at all participating
attractions
Valid price list: 02.04.2019 - 31.12.2019
Appropriation
Unit
Price per unit
Český Krumlov Card - Adult
pers.
300 CZK
Český Krumlov Card - family

2 adults + max. 3 children

family
600 CZK
Český Krumlov Card - reduced

children, seniors, students, handicapped

pers.
150 CZK
Other offers: