Services
>
Places to visit
>
Český Krumlov
>
Cultural amenities
Regional Museum in Český Krumlov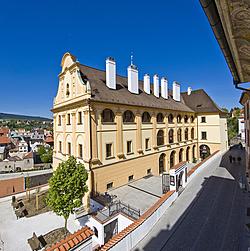 Horní 152
38101 Český Krumlov
Contact: Mgr. Filip Lýsek
Telephone: +420 380 711 674
Fax: +420 380 714 249

E-mail: info@muzeumck.cz
WWW: www.museum-krumlov.eu

Location: Český Krumlov
Type: Cultural amenities; Museums; Galleries; Concert halls
Offered services:
Ticket and other booking
On-line ticket booking
Renting of the rooms
Touristic souveniers for sale
List of offers:
At the present time the Regional Museum administers 22 000 registered items of the collection fund, i.e. next to 34 000 objects. The museum library contains a set of 5 000 books, more than 1/5 has a collection character.
Accessibility by road:
In Český Krumlov pedestrian zone
Opening hours
| | |
| --- | --- |
| Dates | from - to |
| 04.11.2013 - 31.12.2013   (Tu-Su) | 09:00 - 17:00 |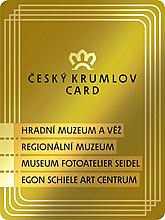 Want to see the best that Český Krumlov has to offer while taking your time to do it at your own pace? Then the Český Krumlov Card is just for you. You don't have to try to take in all four attractions in one day. You have 30 whole days to get to know the local history and contemporary sights that this Card offers you. And if you don't use the Card for all four attractions, you can pass it on to someone else to use it up. Best of all, the Český Krumlov Card saves you at least 50% off the total price of admissions
Valid price list: 01.01.2013 - 31.12.2013
Appropriation
Unit
Price per unit
Český Krumlov Card - Adult
pers.
200 CZK
Český Krumlov Card - family

2 adults + max. 3 children

family
400 CZK
Český Krumlov Card - reduced

children, seniors, students, handicapped

pers.
100 CZK
| | |
| --- | --- |
| Dates | from - to |
| 26.04.2013 - 31.12.2013   (Mo-Su) | 09:00 - 12:00 |
| 26.04.2013 - 31.12.2013   (Mo-Su) | 12:30 - 17:00 |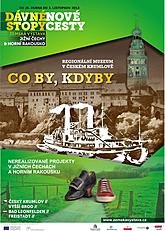 The regions of the upper part of the Vltava River and the Upper Austrian Mühlviertel are the locations of a number of material proofs from times both recent and long past: many projects were created, built, arranged and originated. These are often both material and intangible memorials of exceptional quality and undisputed intra-regional renown. These are joint projects of visionaries, pragmatic creators, creative artists and entire generations of local citizens. A number of projects from the fields of architecture, science, craft, trade, creative arts but also literature and music have been subject of many studies, publications, specialized seminars and exhibitions. The public has also learned about them.

But there is a number of plans surprisingly well preserved fro projects small and large-scale which were never realized for a multitude of reasons. Who were these visionaries, engineers, idealists, overly ambitious politicians or arrogant ideological dictators? What did they intend to create in the Czech-Austrian border region and why their ideas were never realized?

These are the questions raised by the exhibition called "What If...", displaying 25 projects from different eras ranging from medieval times to 1989. The tri-lingual (Czech, German, English) exhibition will be presented at the exhibition halls on the ground floor (approx. 350 sq. m of exhibition space). Visitors will be able to see original historical documents, plans, models and photographs as well as audio-visual elements and artistic animations, often using the required dose of overstatement and humor.
CERAMIC MODEL OF THE HISTORIC CENTRE
| | | |
| --- | --- | --- |
| Dates | from - to | Last tour |
| 26.04.2013 - 03.11.2013   (Mo-Su) | 09:00 - 18:00 | 17:00 hour |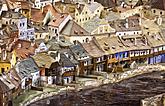 Other offers: