Services
>
Places to visit
>
Region of Český Krumlov
>
Trips around Český Krumlov
>
Museums
Museum of Horse-drawn Railway in Bujanov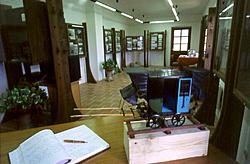 Bujanov 26
38241 Kaplice
Contact: Obecní úřad Bujanov
Telephone: +420 380 327 054

E-mail: bujanov@seznam.cz
WWW: www.bujanov.cz

Location: Region of Český Krumlov
Type: Museums
This small museum was founded thanks to the Village Authority in Bujanov, in cooperation with the Society for the Maintenace of the Horse-drawn Railway, and the South Bohemian Museum in České Budějovice. In the Bujanov Museum of Horse-drawn Railway it is possible to find information about the history of this unique monument, which was founded in the first half of the 19th century. It was the first of its kind in Europe, and it connected Linz and České Budějovice. In the museum there are also documents concerning buildings in the Český Krumlov district which have been preseved till today.
Accessibility by road:
Museum of Horse-drawn Railway is situated in Bujanov ( 22 km far from Český Krumlov) near the preserved station building, in the area of the guard house.
Museum of Horse-drawn Railway
| | |
| --- | --- |
| Dates | From - To |
| 01.05.2018 - 31.10.2018   (Sa-Su) | 09:00 - 12:00 |
| 01.05.2018 - 31.10.2018   (Sa-Su) | 13:00 - 16:00 |
Museum of horse-drawn railway in Bujanov was given two material exhibits in 1998. It is a maquette of former horse-drawn railway station in Bujanov, which is executed in a shape as it used to be in the era of its activity. Then it is a replica of rail top of horse-drawn railway, its length is approximately 25 m. The original stone stools, which were found during the reconstruction works of railway track in Bujanov, were used during the building, and it was in October 98.
Possibilities: Possibility to arrange a tour out of the opening hours
Valid price list: 01.01.2018 - 31.12.2018
| | | |
| --- | --- | --- |
| Appropriation | Unit | price per unit |
| Tour without any commentar | pers. | 15 CZK |