Advent and Christmas in Český Krumlov 2014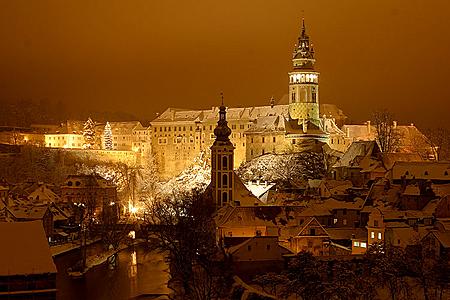 When winter comes, Český Krumlov shows a completely different face. A face filled with peace and poetry. The Advent season is a time of cheerful gatherings, starting with the lifting of the Christmas tree, carols, treats given to children on St. Nicholas' Eve and letters written by children to Baby Jesus.
The festive time before Christmas culminates with a living Nativity scene that tells the biblical story through singing, dancing and plentiful music accompaniment. On Advent weekends visitors can enjoy the old Bohemian Christmas fair offering punch and traditional Christmas cookies, the delicious scent of which spreads throughout the town each day and evokes a festive feeling in everyone.
Families with children can enjoy themselves on Christmas Eve at a gathering in the first castle courtyard and celebrate Christmaswith the Krumlov bears. Celebrations welcoming the New Year in Český Krumlov also offer one-of-a-kind magical and poetic moments.
ADVENT MARKET
MUSICAL AND POETIC ADVENT OPENING
ST. NICHOLAS PRESENT DISTRIBUTION
BABY JESUS POSTAL OFFICE AT U ZLATÉHO ANDĚLA
LIVE NATIVITY SCENE
CHRISTMAS FOR THE BEARS
THREE KINGS
CONCERTS, FAIRY TALES AND OTHER CHRISTMAS EVENTS