Bad Request
Your browser sent a request that this server could not understand.
The request line contained invalid characters following the protocol string.
---
Apache/1.3.29 Server at localhost Port 80
RECONSTRUCTION WORKS - LAZEBNICKY BRIDGE
General reconstruction of Lazebnicky bridge will take place BETWEEN 23RD MARCH AND 17TH MAY.
Please note traffic reductions in the town centre during this period. The Lazebnicky bridge will be open to pedestrians only.
For information updates go to www.ckrumlov.cz/rekonstrukce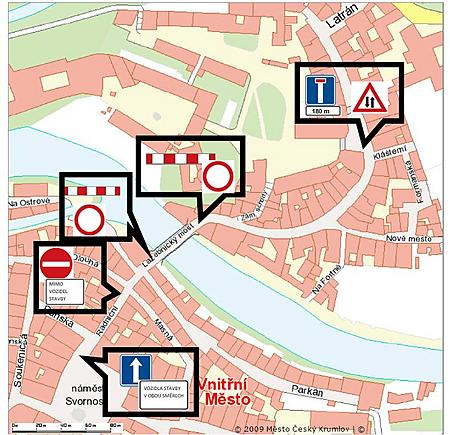 General information regarding the reconstruction and attendant restrictions during the works period
works commence 23rd March 2009
works end 17th May 2009
reasons for the reconstruction: general repairs to the bridge, restoring of statues, revision of infrastructure
traffic restrictions: no entry to bridge for vehicles, pedestrian access only (via provisional footbridge), signs for local traffic, diversion signs.
traffic diversion for Town square and adjoining roads: Objížďková silnice (bypass road) - Horní street
works noise restriction to max time from 7am to 7pm
works site: immediate vicinity of the bridge, the bridge, Hotel Dvorak - frontage and back
electricity, water, gas, heat: no interruption to supplies is planned
information updates: www.ckrumlov.cz/rekonstrukce
Contacts:
Department of investments, Town Hall, Český Krumlov - Petr Zaumüller, tel.: 380 766 710
SMP CZ a.s., site manager - Robert Vraštil, tel.: 602 645 839
Town police Český Krumlov - 24hr service, tel.: 380 711 451
Czech Republic Police, tel.: 974 232111