Český Krumlov from a Bird's Eye View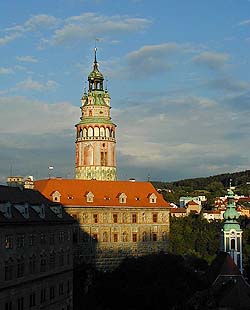 Use of this attractive opportunity and make a journey of 162 steps into the height of 86 meters above the Vltava river water level. You will surely be inspired be the magnificent view of this town of so many facets, folded in the autumnal atmosphere. This year, the Castle Tower will remain open to the public until at least mid December. In case of favorable weather conditions the opening hours will be extended until the end of the year.
Český Krumlov State Castle and Chateau in the Czech Republic belongs to the most significant historical monuments of Central Europe and is also one of the most frequently visited sites in the Czech Republic. The Castle Tower together with the castle and chateau building complex is dominating the town's skyline.
The originally Gothic castle from 13th century has been extended in the 14th century and re-built into the Renaissance style in the 16th century. Baroque and Rococo alterations were done in the 17th and 18th centuries.
The entire ground plan of the IVth Castle courtyard is copied bellow by a large underground space three stories high. Regular exhibitions of artworks by contemporary Czech and foreign artists are regularly held in these so-called Wenceslas Cellars under the auspices of the Czech Ceramic Design Agency.
Until the end of the year you can visit this unique space of the Wenceslas Cellars and view the exhibitions of the International Art Gallery locate there. The Gallery is open from Friday till Sunday.
For more information on the Český Krumlov State Castle and Chateu (history, services and other offers etc.) please view www.castle.ckrumlov.cz.