New design of the Official Information System of Český Krumlov
Welcome to the new web pages of the Official Information System (OIS), of the Town and Region of Český Krumlov and welcome to www.ckrumlov.cz
Our Official Information System boasts a more modern look and is more user-friendly. Users can move easily between three new modules of the system aimed for your use as a RESIDENT, TOURIST, or BUSINESS. These different modules are colour-coded and easy to navigate, making it easy to find the most up-to-date information tailored to your needs. Our home page allows you to jump between modules and gives you the opportunity to choose the most popular applications and services from the comfort of your computer terminal.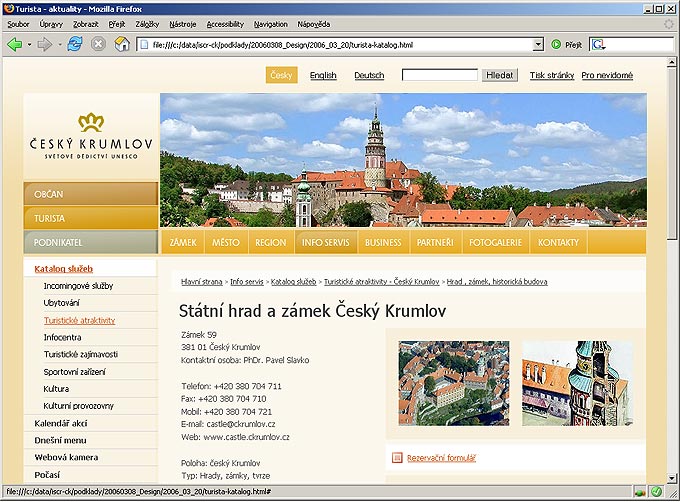 We are pleased that an average of 7500 users visit www.ckrumlov.cz daily, and for the month of May, 2006 230,000 users visited our website, which has been translated into three languages: Czech, English, and German.
New additions to the website:
OIS has existed for the past ten years, and is now ready for a new era in information-sharing.
As we continue to tweak the system and structure of OIS, our servers are running overtime. For this reason, there could be small mistakes made that could lead you to dead-ends or errors on the pages. Please let us know if you encounter some problems and we'll do our best to rectify the situation as soon as we can. We are constantly working to improve the site and we are open to any ideas or tips you may have to share with us.
In closing, I would like to thank all of those who have helped us build the OIS system
More than 100 eager volunteers worked diligently on this project after its initiation in 1996-98, as we put together an encyclopaedic listing of the town and the region. Thanks to their hard work, OIS has become an indispensable marketing tool for getting Český Krumlov on the map. We are proud that this complete system of information will only continue to grow and develop in the coming years.
I would also like to thank all of our cooperating partners in the tourism industry whose comments and advice were greatly appreciated, the directors of the Český Krumlov Development Fund (the current overseer of OIS) and the Town of Český Krumlov (the present owner of OIS) for it's financial support, to FG Forrest Company for their excellent cooperation in graphic redesign of OIS, Mr. Jaroslav Berit for his technical expertise, and last, but not least, Lubor Mrázek for his professional help and support.
I look forward to hearing your comments. Leave them at my address below, or add them to the GUEST BOOK.
Ing. Tibor Horváth
Manager OIS - www.ckrumlov.cz
Český Krumlov Development Fund, Ltd.
Overseer of the Official Information System of the Town and Region of Český Krumlov
Tel.: 380 704 614, fax: 380 704 619, mobil 606 422 628
E-mail: tibor.horvath@ckrf.ckrumlov.cz