Easter in Český Krumlov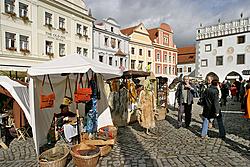 Český Krumlov will celebrate Easter on the third April weekend. Easter is the most important Christian holiday.
An Easter market will take place on Svornosti Square from Maundy Thursday 17 April until Easter Monday 21 April. Various stalls will offer handicrafts and other products as well as meal delicacies. You can buy traditional Easter goods such as clappers, whistles, Easter eggs embellished with various decorating techniques, Easter braided whips made from willow twigs, spring flowers and decorations. The Square will be filled with the sweet smell of freshly roasted almonds and nuts and potato chips. You can also enjoy a tasty meal in one of the local restaurants.
You can also admire or purchase decorated Easter Eggs, gingerbreads or dolls made of corn husks at the Easter exhibition which takes place at the R-Gallery until 21 April.