Easter in Český Krumlov
At the end of March and begin of April will Český Krumlov celebrate the most important Christian holiday - Easter.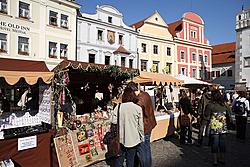 From Thursday, 28th March to Monday, the 1st April comes alive the Svornosti Square through the Eastern market, where will traders and artisans offer you their products and let you taste some traditional delicacies. You can see e.g. egg hunts, painted eggs, wooden products or furry lambs. The square will be traditionally scented by roasted potatoes. You can also enjoy some good meal in local restaurants.
Further you can admire painted Easter eggs, gingerbread or dolls from corn husks and more in the R-gallery, where is an Eastern sales exhibition held in March.
Notice: Easter Passion plays performances in Český Krumlov, scheduled for Sunday, March 31, 2013, is because of bad weather MOVED to alternative date, to April 28 from 14.00 hours in the Eggenberg brewery gardens.