St. Valentine´s in Český Krumlov
Český Krumlov is ideal for a romantic weekend getaway or an afternoon stroll. Escape from the mundane daily routine to a charming place that will enchant you.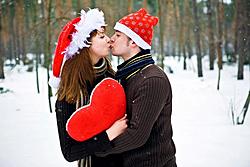 There are a several ways how to celebrate Valentine´s Day in Český Krumlov. If you prefer a day trip, try our Gift Day package which will give you freedom and also surprise you with unique experiences.
Would you like to have a permanent souvenir of your love? Come have a picture taken with your partner at the Museum Photo Studio Seidel!
Do you prefer to give a present of a romantic getaway to your loved one? Choose one of our Gift Stay packages. They are all designed for two persons and two nights and aim to bring you the essence of Český Krumlov. You can look forward to visiting four unique expositions, a stylish portrait in a period costume, an exceptional gastronomic experience, a mysterious tour of our medieval town or relaxation in a wellness centre.
Another option is to choose on the of the special Valentine´s packages offered by local hotels and guesthouses.
You can visit several local museums, galleries, cosy pubs and taverns. Although loves keeps you warm, you will certainly appreciate the warmth of a burning fire and enjoy a special Valentine´s menu.
For St. Valentine´s offers please view www.ckrumlov.cz/Valentine2013.