Saint Wenceslas Celebrations & International Folklore Festival 2017
The last weekend of September (28th September - 1st October) in Český Krumlov will belong to the traditional St. Wenceslas Celebrations and the International Folklore Festival, where the tribute to St. Wenceslas will be given. On Friday and Saturday there will be many opportunities for dancing in the historical town centre. The festivities promise good food, drinks from the wine makers and brewers, interesting cultural events, music and much more.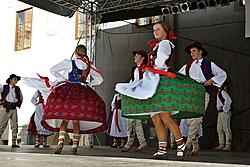 The program of this year's St. Wenceslas Celebrations will open extraordinary special tours of the church and St. Wenceslas Chapel and St.Wenceslas´ Holy Mass on Thursday September 28. On the state holiday you will also be able to see Schwarzenberg archive wine cellars in the Renaissance house on the V. Castle Courtyard, where guests can enjoy wine tasting. In a pilgrimage area on Křížová hora (the Mountain of the Cross) above Český Krumlov you can experience the St. Wenceslas Night with impressive lighting and a concert.
Oganizers have prepared a novelty for this year - Brewery Festivities in the Brewery Garden, which promise a presentation of beers from the production of the Historical Brewery of Český Krumlov. The Český Krumlov brewery follows a tradition of brewing beer in Český Krumlov, which is practically connected with the founding of the town since the 13th century. Thanks to the passion for honest Czech beer and the effort to return the fame of Krumlov´s beer from the times of its greatest glory during the rule of Rosenberg and Schwarzenberg family was the tradition of beer brewing in Český Krumlov renewed. You can look forward to a light lager 11 °, a light lager Premium 12 ° and a dark lager Premium 12 °.
Good drinking and good eating go hand in hand. Good food is this year under direction of the Český Krumlov Association of Chefs and will offer many delicacies - e.g. roasted pork belly served with caramel apples and roasted onion, roasted duck with marinated cabbage and roasted kohlrabi, roasted beef neck with pumpkin puree and many others from the finest gastronomy. The program will certainly please also wine lovers who can this year newly taste about 50 samples of wine from Bohemia, Moravia, Austria, Italy, Germany, Bulgaria and Montenegro. Wine tasting will take place in the Monastery Garden and will be arranged in the form of tokens to be purchased at place. From Thursday, September 28 until Sunday, October 1, St. Wenceslas Fair will fill up the historical town square with traditional goods and condiments. Another event you should not miss could be plum feast in the Český Krumlov Monasteries. Plum dumplings, plum cakes or plum beer - it just sounds good, doesn´t it?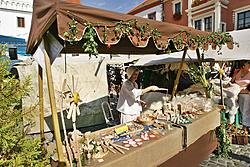 Folklore music will be heard throughout the festival days in the square and streets and alleys of the town. Visitors will be able to enjoy a real folk legend - the Žalman & spol., who has been on the music scene for almost half a century, will perform. Bluegrass band called Semtam will also appear, and the Urquhart band will on Friday experience the premiere of a public concert. Dancers participating in the International Folklore Festival on Friday and Saturday will present their performances and demonstrate the close link between folklore and dancing. Visitors may look forward to bands from New Zealand, India, Israel, Croatia and from Czech ensembles you will see bands from Pilsen, České Budějovice and Jitřenka and Růže from Český Krumlov.
St. Wenceslas Celebrations will also include: traditional guided town tours, a favourite meeting all Václavs and Václavkas on Saturday, a traditional St. Wenceslas photo session at the Museum Fotoatelier Seidel, and especially St. Wenceslas open door night of museums and galleries with free entry into selected museums. Traditionally, wooden rafters of Český Krumlov join these celebrations and they will present a model of an old Vltava wooden raft so that everyone can see how wood-floating was working before. Volunteer firefighters of Český Krumlov, who will this year celebrate 80th anniversary of the founding of their fire brigade, are also planning an extraordinary spectacle. They will show fire fighting in Široká street in the town centre. Another anniversary, which joins the St. Wenceslas Celebrations, is the 25-year existence of the Forest Administration in Český Krumlov. Forests of the Czech Republic have prepared for sports enthusiasts and families with children a 25km long march in the southeastern part of the mountain Kleť with an accompanying program and forestry pedagogy.
Entry for the Celebrations is free with exceptions noted in the St. Wenceslas Celebrations programme.
We would like to cordially invite you to Český Krumlov for an autumnal celebration of good friendships, joint history and fateful meetings as well as good food and drink with lots of fun and entertainment.