An autumnal celebration of excellent food and drink with lots of entertainment and cultural performances takes place during 28 - 30 September. It is held in honor of St. Wenceslas, patron of the Czech lands, of beer brewers and wine makers and to commemorate the National Holiday of the Czech Republic and 10th anniversary of the destructive floods.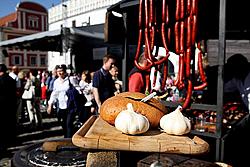 Just as 10 years ago this year's St. Wenceslas Celebrations are dedicated to all who have helped the town of Český Krumlov and its inhabitants "rise above water" again. Starting from Friday noon there will be a St. Wenceslas Market taking place on the Svornosti Square for the entire duration of the Celebrations offering traditional goods and delicacies. The Celebrations will be officially open on 28 September at 6 pm. Colourful costumes will appear in the town streets in the morning. Dancers participating in the International Folklore Festival will present their performances and demonstrate the close link between folklore and dancing. Friday evening will be dedicated to music and dancing; visitors may look forward to the bands Lakomá Barka, Bratři Karamazovi or a concert celebrating the 30th anniversary of a successful band Klíč.
Saturday program will again bring the International Folklore Festival into town. Starting from 10 am there will be performances on the podium by ensembles Mionší from Dolní Lomná, Marjánek from Mariánské Lázně or Úsvitáček from České Budějovice as well as many others. Visitors named Václav or Václava should remember signing the commemorative book at the Info Center on Svornosti Square. There will be a joint meeting on Saturday evening and at 5.30 pm a Václav-themed contest and photo shooting will be declared. At 6 pm there will be a meeting and an expression of gratitude to all donors and volunteers of the 2002 flood relief effort.
A new local musical body - Chlapi v sobě will perform on Saturday evening. The greatest hits of rock and pop scene in Český Krumlov will be played by a new ensemble made up of experienced musicians. There will also be the popular St. Wenceslas Open Door Night of Museums and Galleries. Many museums and galleries will open their doors at 8 pm and offer a unique opportunity to view their interesting content. Children can look forward to a Saturday afternoon full of games held in the Eggenberg Brewery gardens. Jednota, the event partner, have prepared nice prizes and presents. The program includes a musical and theatrical performance for children, a bouncing castle, a springboard, face painting, artistic workshops, games, presentation and tasting of regional specialties and a farmers´ market. An adrenaline-fuelled rope line above the Vltava river will bring an unforgettable experience for you and your children. A Legend of St. Wenceslas, part of an illustrated manuscript Liber depictus will be on display in the Mint on 2nd Castle courtyard during the St. Wenceslas celebrations. This so-called Codex of Krumlov was created in the Minorite Monastery in Český Krumlov and presents a notable example of medieval illustrative arts of mid 14th century.
The Celebrations program continues on Sunday with special tours of the church and St. Wenceslas Chapel and by a theatrical performance by the Rovnátka ensemble and a festive concert in honour of St. Wenceslas. There will also be guided town tours on Sunday. During the Celebrations you can also reserve a theatrical tour of the Museum Photo Studio Seidel and take a peek into the Seidel household and workshop.
Entry for the Celebrations is free with exceptions noted in the St. Wenceslas Celebrations programme.
We would like to cordially invite you to Český Krumlov for an autumnal celebration of good friendships, joint history and fateful meetings as well as good food and drink with lots of fun and entertainment.
For more information: www.ckrumlov.cz/svs2012 or programme to download.
We would like to thank all event partners and organizers.
The organizers of St. Wenceslas Celebrations are the town of Český Krumlov, Municipal Theatre Český Krumlov, Českokrumlovský rozvojový fond, spol. s r.o. St. Wenceslas market is organized by Hana Pelzová. Production and Celebrations program is prepared by the Municipal Theatre Český Krumlov.
General partner of St. Wenceslas Celebrations is Budějovický Budvar, n. p.
Main partners of St. Wenceslas Celebrations are: CzechTourism, ČEVAK, a. s., CARTHAMUS, a. s., EUROVIA CS, a. s., section Bohemia West, Jednota Consumers Cooperative in Kaplice, Linde Pohony, s. r. o. and South Bohemian Region.
Event partners are Schwan Cosmetics CR, s. r. o., Kaufland Česká republika, v. o. s. and Eggenberg Brewery.
Media partners are: Týdeník 5+2 dny, Hitrádio Faktor, Český rozhlas České Budějovice, Českokrumlovský deník, Mladá fronta DNES, Ozvěny z měst a obcí Českokrumlovska and Official Information System of the town and region of Český Krumlov.